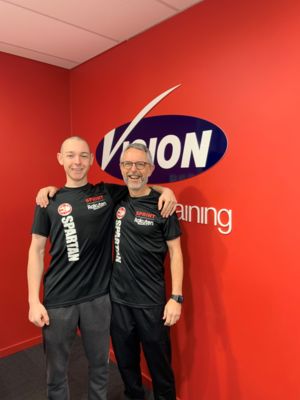 Kieran's story:
When I first joined Vision I really didn't believe I would be able to stick at it, but I quickly realised that there was no way I could ever go back to the way I was living. Training here with Matt Parsons has been incredible and I can't thank him enough for being as tough as he has been with me. The months before I started training with Parsons were some of the most difficult months of my life in terms of my mental health and well being, I really wasn't taking care of myself at all, until Mum dragged me into the gym for a goals session with Matt and everything started to look up from there. Matt gave me the stepping stones that I needed to build my confidence and get myself out of the hole I was in. Now after almost a year of training I absolutely love coming in and improving myself every day that I can and love being pushed to my limits by all the trainers here. I have achieved so much here that I never would've thought I was capable of, some prime examples being completing the Sutherland to Surf in under an hour or the many times I've proven myself wrong when I thought I wouldn't be able to lift something, all with the help and support from Matt and the other trainers. I can't wait to continue working with Matt on improving my body and getting stronger and I definitely wouldn't have achieved half of the things I have in my time here without him.
Brian's story:
I had never done any regular exercise for more than a month or two, then in late 2017 my doctor diagnosed me with osteoporosis and told me to do weight-bearing exercise. I decided to take this seriously and started walking, helped along nicely by getting a dog. As I got more regular with the walking, I thought I'd try a little jogging, and very quickly buggered an Achilles, so had to recover from that. Then out of the blue, my wonderful wife Ros joined up to this strange place called Vision at Kogarah, and started exercising properly and eating better, and the kilos began to fall off her as she became happier than she'd been in a very long time. After I walked the Oatley Park fun run with her (and met some of the Vision crew) I started doing Parkrun, a weekly, timed 5km event that my siblings have been hassling me to try for years. After a few weeks of that, I started gently running and discovered, to my surprise, that I can run! Combining this with the more healthy eating Ros was doing, I started losing weight too. It took 6 months of Ros loving Vision for me to feel ready to try it myself, and I'm so glad I did. Matt Parsons has been fantastic, always getting the right balance of pushing me to try things I felt I couldn't do, and before I knew it, I'd signed up to run a half marathon which I did in May this year, and I'm looking at other runs to try (and no, I'm not in any way interested in a full marathon). The weights sessions with Matt have been the key to me becoming the fittest and strongest I have ever been, and now that our son Kieran has joined up too, it feels like we're a real team getting healthier all the time. Thank you to all the crew and fellow clients at Vision Kogarah, especially Parsons, for their unceasing welcome and encouragement. And thank you to my awesome family for sharing the pains and gains.
Kogarah Success Stories
Our holistic approach to emotions, education, eating and exercise has transformed thousands of people across Australia & New Zealand. Get inspired by the journeys of your latest clients.
Are you our next success story?
Give your goals the greenlight and join us. Book your free consult now.