Before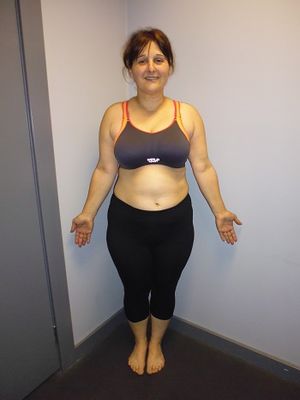 After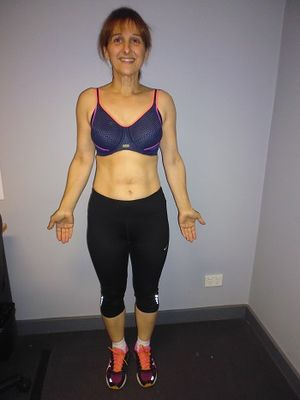 Tell us about your life before joining Vision?
Like many people, exercise just wasn't part of my daily life. I had many excuses why I didn't exercise. I was too busy, I was too tired, I hadn't found the right gym, I didn't want to hurt myself, it was boring. So many excuses.
The reality was I was depressed about my weight and appearance, I was increasing in dress size every year, I stopped wanting to be in family photo's and I was physically uncomfortable in my own body. In essence my weight and health were out of control.
My excess weight was also dictating and restricting my life. I wasn't fit enough to ski or ride with my boys anymore, I wouldn't get in the water at the pool or beach because I didn't want to be seen in a swimsuit.
What results have you achieved at Vision?
Once I started at Vision hawthorn, with the support and motivation of my trainer Meg, the encouragement of the other trainers and the personalized nutrition and exercise plan as well as the 9 week goal setting sessions and educational seminars that are always provided it was very easy to stay on track and keep motivated and my weight fell away very quickly. By "easy" I don't mean to say effortless, because exercising has never been effortless for me but it has been simple. There is so much help and support given.
Overall I have lost 22 kilos but my best result and what I love is that I have transformed my life. And not only physically, both fitness and size wise, but also mentally. I have gone from being self conscious to confident, from always being tired to energized and ready for the day and the next challenge and from being depressed to happy. I am strong, fit and I feel great. I am approaching 50 years of age and I feel this is the healthiest body I have ever had.
What impact has vision had on your life since achieveing your amazing results?
Healthy eating and exercise are part of my everyday life now. Vision has ingrained that behavior in me. And the best part is that my healthier lifestyle is also benefitting my husband and my boys. We exercise together and we do it a lot. I can not only keep up, but sometime I beat them so the boys now see me as a serious competitor. I love it. As a family we are all going to compete in Run Melbourne in July this year and everyone is training (to beat mum). That would never have happened without the Vision Hawthorn team.
Vision hawthorn has become part of my extended family. I go to the gym just as much for the social activities and the friendships I have made as for the exercise.
What are some of the defining moment during your journey?
It's been a year of defining moments for me. And each better and better.
The first day I walked into Vision for my first personal training session was one of the scariest moments of my journey. I was embarrassed about how much I had let myself go. Lucky for me a great friend had persuaded me to give Vision a try telling me Vision was different. They weren't like other gyms. She was so right.
Meeting my trainer Meg was another, because I can't fathom this year without her by my side encouraging me every step of the way. I give her a lot of grief and she gives me results.
Running has made up many defining moments. Who knew I could run? Competing in my first ever fun run with the Vision team and running a 5km course was monumental for me. Competing in the10kmsat the Sussan Women's Classic Fun Run in December 2015 with Meg by my side and crossing the finish line together was unforgettable. I would never have believed I could achieve a fitness level to run these distances. I look forward to many more with the team!
What advice would you give someone who is currently thinking about taking a positive step towards changing their health and fitness?
Don't wait for next week or next month. Time flies past so quickly and I cant believe the difference in my health and wellbeing in the past year. It's really important to surround yourself with positive influences and a good support network. I get that from my family and my Vision family.
*Individual results vary based on agreed goals.
Hawthorn Success Stories
Our holistic approach to emotions, education, eating and exercise has transformed thousands of people across Australia & New Zealand. Get inspired by the journeys of your latest clients.
Are you our next success story?
Give your goals the greenlight and join us. Book your free consult now.