Before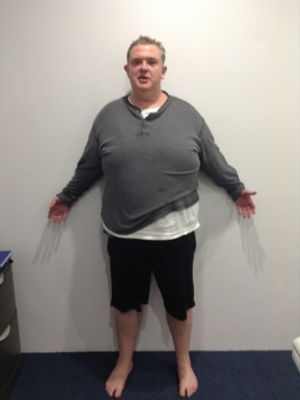 After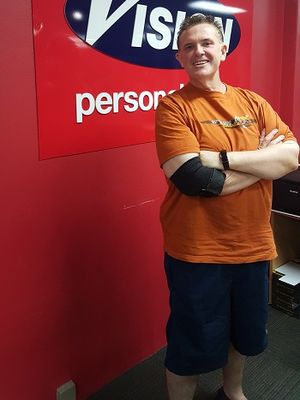 It was only 2 years ago where I was jogging several km a day. However, due stresses in life I stopped training and put on over 50kg, it was affecting all parts of my life, my blood pressure became so high that my Doctor placed me on not just one, but 2 blood pressure medications. I also found when giving speeches or talks in my profession, that I was to lacking confidence and felt quite embarrassed to be standing up in public.

However, although still on a journey, thanks to Vison I have now lost 45kg in 20 weeks, and I've started jogging again. I am no longer on any blood pressure medication, and I now have the confidence to once again speak in front of an audience.

My journey began with the concern from my family and friends that my weight was spiralling out of control, and I was a ticking time bomb as far as a Heart Attack or Stroke was concerned. As I have trained seriously on and off most of my life, my family and friends encouraged me to get back to the gym. However, with massive weight loss required and knowing this was going to be an enormous Mountain, I did not believe I could climb it, so I continued on a downhill spiral. As I prayed for the strength and support that I needed.

Then one of my friends who was a Member of Vision Kogarah asked me to come to Vision, of course I refused. So she asked if I would meet her Personal Trainer, who was also the Manger of Vision Kogarah, I said it was pointless, but I decided to go for the free breakfast. I found him to be a nice and encouraging young man, and surprisingly showed genuine concern for my health. To the point he said come to Vision, don't even worry about the payments at this time, just come and train as I am really worried about you, of course I refused his offer.

However, he continued to sms me messages of support and encouragement, asking me to come to the gym, and I continued to put him off. Then on the same day my Doctor said to me, with my blood pressure hitting 154/110, "I'm not worried about you having a Heart Attack, as that's the best you could hope for, I am concerned you're on the verge of a stroke and you will end up in a vegetable state for the rest of your life". Only hours after hearing that from my Doctor, I also received another message from the Vision Personal Trainier saying he had a new young inspiring Trainer, and he wanted me to come up and meet him, so I did.

This was the start of my journey and my prayers were answered, he was enthusiastic and encouraging, which further motivated me. But it was not just him, it was the entire team at Vision Kogarah, who have continued to encourage and motivate me. Even in recent time when I wanted to push to hit a goal, I received some great encouragement and support from the owner of Kogarah. I have trained in many gyms across Sydney from the age of 16, but never have I been involved in a gym where the trainers are so supportive and encouraging. I don't feel as though I have 1 trainer at Vison, it's more like I have 5 trainers, as all of them are open to helping me.

So I am most grateful to Vison Kogarah, as probably the greatest things they have provided me is accountability, I am now accountable for my weight loss and what I eat, training etc. Also following macronutrients rather than calories has also aided me in my eating habits.

Although one of the greatest encouragements in continuing my journey at vision Kogarah is the "family caring environment" that is so evident. It's a place you want to go and train, not just for the physical rewards, but for the emotional and social. The culture at Vision Kogarah is a genuine, inviting, loving and caring environment, where I have made some great friends and look forward to continuing my journey.
Kogarah Success Stories
Our holistic approach to emotions, education, eating and exercise has transformed thousands of people across Australia & New Zealand. Get inspired by the journeys of your latest clients.
Are you our next success story?
Give your goals the greenlight and join us. Book your free consult now.