6/6 Memorial Drive
SHELLHARBOUR, NSW 2529
Opening hours
Mon - Thurs 5:00am - 7:00pm
Friday 5:00am - 3:00pm
Saturday 6:30am – 12noon
Sunday Closed
Client feedback means the world to us!
Check out our latest reviews
Tanja Dejanovic

January 07, 2022

"Tailored and individualised program to give you results. Comfortable environment and inclusive of all ages. 5/5 👍 "

Judy Kane

January 07, 2022

"Rach and team are very professional at what the do, always looking after there clients, good communication. "

Emma Jayne

December 19, 2021

"Vision PT has changed my life in many ways, and I'm so grateful. Approaching my thirties, I could see all the bad decisions of my twenties catching up to me;

...

I no longer felt good about myself. After years of bad food decisions and a lack of exercise, I knew I needed to change. I contacted and consulted with multiple trainers before I met Rachel. During a consult, I discovered how much support there is, but the best part was that Vision is happy to work with your schedule. Sounds wild, I know! Other trainers wanted me to work with their schedule that didn't work with mine! Nine months into my Vision journey, I'm now the fittest I've been in years, but most importantly, I feel confident! Thank you for your ongoing support

See more

"
Upcoming group training sessions
Monday
Tuesday
Wednesday
Thursday
Friday
Saturday
Sunday

Bottom Line
6:00 AM

Strength
5:30 PM

X-Train
6:00 AM

X-Train
5:30 PM

Burner
6:00 AM

X-Train
6:30 AM

Revive
6:00 PM

Revive
7:00 AM
Upcoming studio events
New to Vision? Secure your spot at our next event by clicking register to the right. Already a Client? Save your spot via the MyVision app. Join us!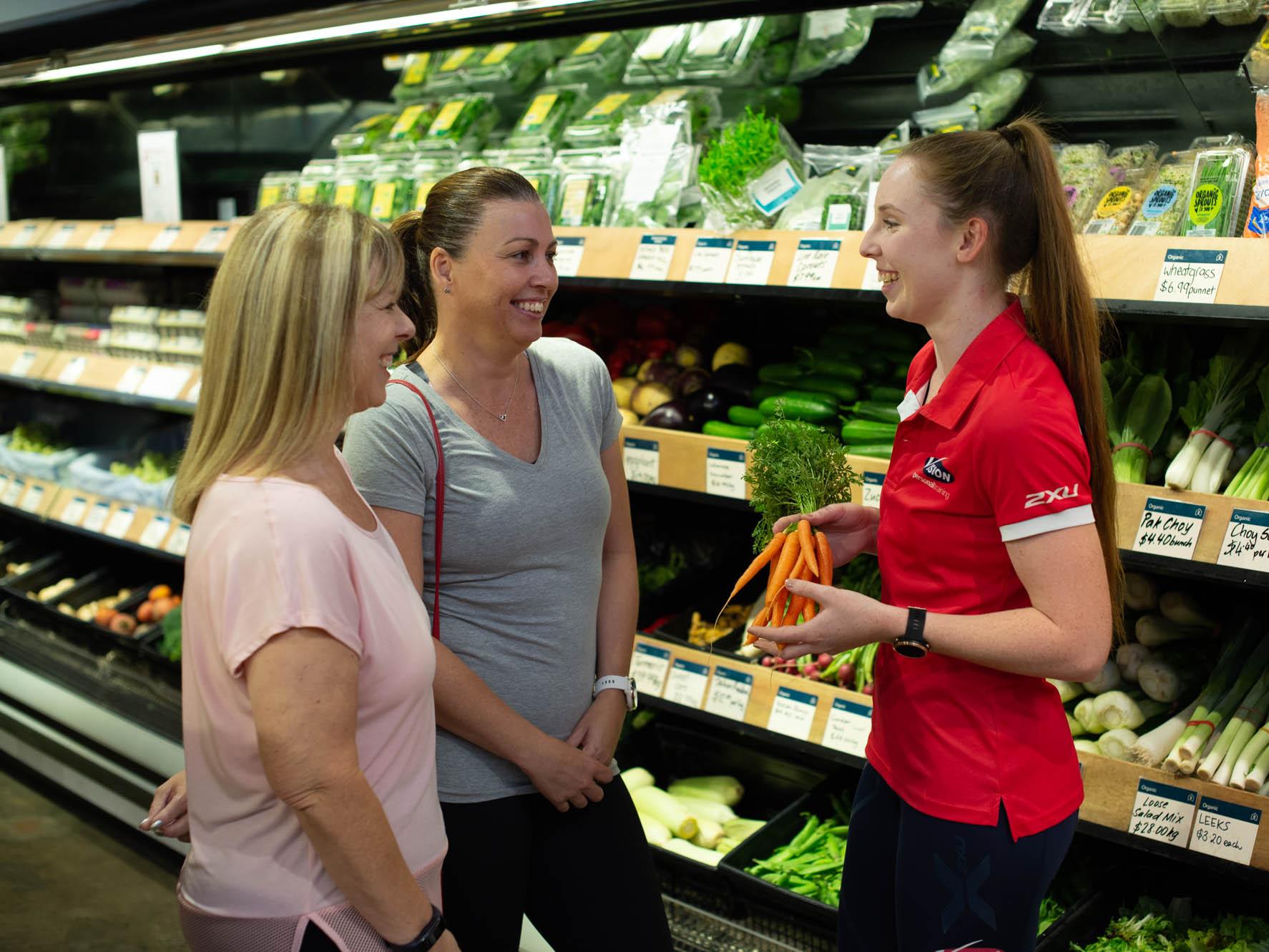 Shopping Tours
Shopping Tour
Learn about a variety of foods that are most appropriate for your individual nutritional g...
Learn about a variety of foods that are most appropriate for your individual nutritional goals, how to effectively read food labels and food-shop for success. This is a practical and interactive tour conducted at your Studio's local Supermarket. This tour is designed to help you understand how to make the best choices to ensure you can follow a healthy eating plan that is tasty and fits easily into your lifestyle.
Meet our Shellharbour team
Meet our Studio Owners, Managers and Personal Trainers who are passionate and absolutely ready to guide you along your new health and fitness journey!

OWNER
Rachel Macedo

TRAINERS
Kaillum Key - Manager
Andrew Stark - Trainer
Jessie Jackson - Trainer

Looking to join our team as a Personal Trainer?
Are you our next success story?
Give your goals the greenlight and join us at Vision Shellharbour. Book your free consult now!
My name is Rachel Macedo, I am a mother of 3, wife and owner of 2 businesses. Before joining Vision Personal Training back in 2013 as a Client, I always thought I was a healthy eater who trained regularly 3 times a week. Oh boy! Was I wrong. So then began my journey at Vision Personal Training.
Going on my own weight loss journey along side my Trainer Kaillum, I learnt so many new habits, not only physically but mentally. These results really are Guaranteed and made such a positive impact on my busy life.
Seeing my own results and how much it had changed my lifestyle, I made the big step to enquire about Studio ownership, I didn't want to just buy into the business I wanted to know every part of it from top to bottom.
I took the risk and went back to study and enrolled at the Australian Institute of Personal Training. 5 months later I was still hungry for more so I applied for a Personal Trainer position at the Wollongong Studio. I was put on the Vision Experience Program and then the Rookie Program and I just kept growing.
I now have extensive experience in training for all types of running and weight lifting. The highlight would have to be taking my Clients to New York and running with them through Time Square, and of course not I couldn't forget running a marathon in Uluru, who would have thought this was all possible!
The support I got from everyone at the Studio was amazing and backed by my amazing family and supportive husband Carlos. Without even realising it I had climbed the Vision Career Path and became the Studio Manager working alongside Kaillum.
Studio Ownership is finally here and I will build the same energic community and culture in our Shellharbour Studio, sharing and using my own Vision experiences to give all clients achievable and sustainable results.