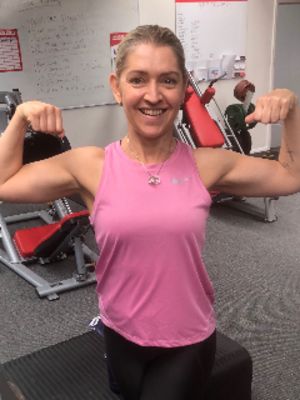 I was in a really poor mind space, eating badly, drinking more than was good for me and topping it all up with coffee to get me through really long (and not always productive) workdays. Consequently, I was sleeping badly and not prioritising my exercise. I knew what I had to do, and would start a fresh exercise routine, but that would last maybe 2 weeks if I was lucky and then it was back into my usual routine.
I had tried numerous times and failed to make long term improvements to my daily habits. I saw a photo of me and didn't recognise myself and knew it was time to get serious.
Once joining Vision, I was most surprised at how much I actually enjoyed lifting weights and winning the muscle gain challenge! That was amazing, especially considering the injuries, surgery and rehab took such a long time to get through (not to mention smashing my big toe in week 1!)
Also - I believed that because a lot of my family had bad knees and knee pain, that I couldn't run anymore. When I joined Vision, I was so excited to learn that yes, I can run! It just needs a proper focus on strengthening the supporting muscles. It made so much sense, and I have really enjoyed being able to return to running and running my first ever half marathon was such a massive achievement for me.
The biggest benefit for me is that I no longer fluctuate between trying to be 'healthy' and having massive blow outs. I've really learned to prioritise myself, and my PT sessions really help to keep me focussed, and when I do start to slip I don't dwell on it and can turn it around and train harder, which always makes me feel better.
If you are thinking about trying Vision, definitely give it a go. The environment is so welcoming and supportive, its impossible to not fit in your exercise and it's amazing how quickly you will see results.
Wollongong Success Stories
Our holistic approach to emotions, education, eating and exercise has transformed thousands of people across Australia & New Zealand. Get inspired by the journeys of your latest clients.
Are you our next success story?
Give your goals the greenlight and join us. Book your free consult now.