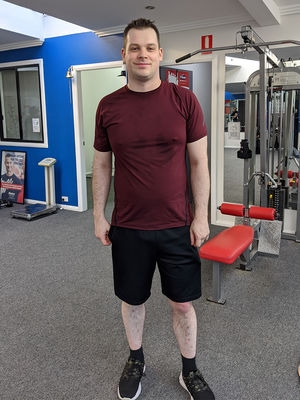 I used to feel lethargic and cared less about what I ate/drank daily. I kept putting off the idea that my health/fitness was an immediate issue until my lack of fitness started to become more apparent, especially when it finally went over 110kg, which is when I finally decided to seek help from a personal trainer and found Vision. I made relatively quick progress, rapidly losing over 10kg with some minor changes to my daily life. Learning about the healthier options that I can still enjoy and what to look for when picking my food and drink options through the informative Shopping Tours dispelled some of my preconceived notions on things that I thought were healthier than they actually were. I have constant access to assistance and advice that my Trainers Brad and Kevin at Vision have provided me along with all the other friendly trainers there that are always open to questions and giving advice. The support and drive that I've received has pushed me to make it over halfway to my goal weight and given me the boost in self-confidence I so desperately needed to keep striving to make it all the way to 90kg. It's worth giving Vision a chance to help you like Vision has been able to help me. The friendly and hands-on approach that each trainer takes with their clients is probably better than most other gyms out there that offer similar services.
Wollongong Success Stories
Our holistic approach to emotions, education, eating and exercise has transformed thousands of people across Australia & New Zealand. Get inspired by the journeys of your latest clients.
Are you our next success story?
Give your goals the greenlight and join us. Book your free consult now.