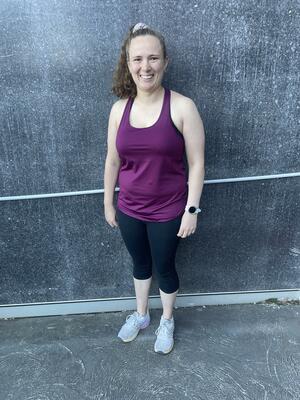 I was working a variety of different shifts, 7 days a week, on top of an hour travel to work each day. I was always tired, stressed, and low on energy and turned to fast food to save time in the day to get everything done. I felt like I didn't have the time in my busy schedule to do a workout or prepare a meal that would last the commute to work and was too tired and stressed about other things to try and make the effort. I had put on quite a lot of weight due to my eating habits and not doing any exercise to the point that I felt uncomfortable to get in the water and do my job due to the way I looked.
Little changes go a big way, like how eating the right foods keep you feeling fuller and give you more energy. Getting a gym class into my day helps monitor stress levels and gives me more energy in the day. I am starting to feel more comfortable in my own skin again, my stress levels are starting to decrease which is making me more productive at work.
You have the support of all the trainers and other clients going through the same kind of things as you to support and have a laugh with. And the trainers always have the right answers. Give it a go you will be surprised what you can achieve with the support and encouragement behind you.
Wollongong Success Stories
Our holistic approach to emotions, education, eating and exercise has transformed thousands of people across Australia & New Zealand. Get inspired by the journeys of your latest clients.
Are you our next success story?
Give your goals the greenlight and join us. Book your free consult now.