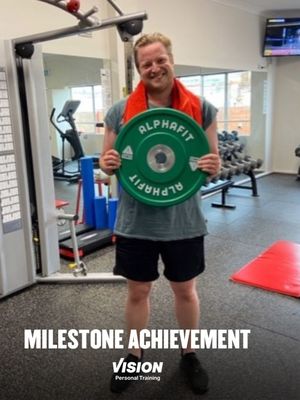 How did you find the Vision Randwick experience overall?
Fantastic – I was someone who needed to be kept accountable and needed to change my lifestyle – the atmosphere and care that the team at Vision Randwick created for me was exactly what I needed. I was excited to train with my PT and to speak to the team, led by Phil and Sandra, I always appreciated the support and advice they gave me along the way. It never felt like a "fad" or short term solution – it feels like a positive change in routine from the word "go" – and I haven't, nor do I plan, on looking back.
What lessons have you learned along the way?
That you don't have to punish yourself by starving your body. With some conscious choices around meals and what type of food you put in your body, you can lose weight and shape your body with a little routine and exercise to support yourself along the way. I also learnt the exercise doesn't need to be feared – and begin looking forward to it as a "positive" start to my day.
What is your major achievement through being a client at Vision?
Losing 10kg overall while gaining muscle and developing healthy eating habits. My habits aren't perfect but being able to find a balance between healthy eating, and spoiling myself every now and then was important for me to ensure long-term success. Also, being March member of the month was also a wonderful reward.
Would you recommend Vision Randwick to friends and family?
Absolutely! Vision Randwick doesn't feel like a gym – instead, it is a like-minded community of wonderful individuals all looking to improve their lifestyle! I would recommend it to anyone!
Randwick Success Stories
Our holistic approach to emotions, education, eating and exercise has transformed thousands of people across Australia & New Zealand. Get inspired by the journeys of your latest clients.
Are you our next success story?
Give your goals the greenlight and join us. Book your free consult now.