Before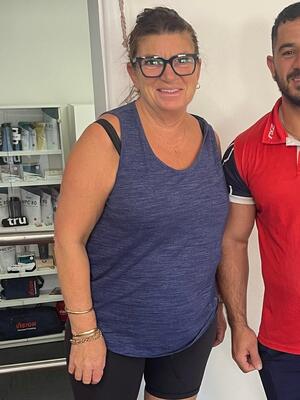 After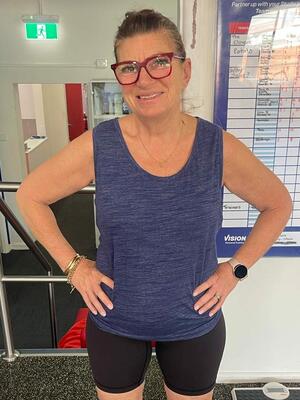 I had gradually gained 20kgs over the last 6 years. I tried various diets, Lite n Easy, intermittent fasting you name it I tried it! I would always give up or make excuses.
Let's rewind the clock by 12 months. February 2021, I had all good intentions to lose weight before my 60th birthday, then Easter rolled around, winter came and went and before I knew it, I was celebrating my 60th birthday and had increased my weight by another 4kgs.

I was unmotivated and was resigned to the fact that this was me, size 16-18, Christmas passed as did New Year.

I kept seeing fad diets and Instagram success stories at various gyms but was too embarrassed to contact as I felt I couldn't do classes and was not motivated to go on my own.

I saw an add for Vision Randwick where a woman in her late 60's was urging people to get off the couch and join if you wanted to have fun as well as getting fit and healthy.

Once I clicked on LEARN MORE my life changed!

Once meeting Trent in February 2023 (who had tried to set a consultation with me more than once as I was still in doubt) I signed up with Vision Randwick on the spot. I instantly clicked with him and felt confident this was the gym for me.

I was assigned a PT who took the time to explain how many carbs, protein and fats I should have as well as how much cardio I actually needed to achieve my goal of a 20kg weight loss.

At first, I will be honest in saying it was a chore (as I work part time, I was available to go to the gym most days). Over a few weeks I had developed a friendship and trust with my trainer and was starting to feel a little better about myself as well seeing results!

I HAD FOUND MY GYM & MY PEOPLE!

10 weeks in and I had lost 8.5kgs, feeling great and motivated to push myself harder.

The Vision community Trent has created is above and beyond anything I have experienced, not only do I get support from my PT but also from other trainers as well as the clients. I actually love all the group training sessions, my PT Sessions as well as Training ON MY OWN.

Coffee club on a Saturday after the 7am group training is a fabulous way to start the weekend, as well catching up with other clients, who I now call friends, to see not only their progress but what has been happening during the week. We are all very supportive of each other.
I have now lost 16kgs and am the best version of myself, feeling and looking good can completely change your mindset and lifestyle.

I have also changed the conversation from " have you seen how much weight Sharon has gained" to "OMG have you seen how much weight Sharon has lost".

My family and friends are very proud of me, as am I, I am now in a size 10-12 and will not stop at that. I owe my success to Vision Randwick, and it has been one of the best decisions I have made.
Randwick Success Stories
Our holistic approach to emotions, education, eating and exercise has transformed thousands of people across Australia & New Zealand. Get inspired by the journeys of your latest clients.
Are you our next success story?
Give your goals the greenlight and join us. Book your free consult now.