Before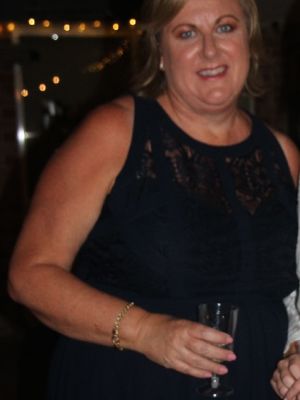 After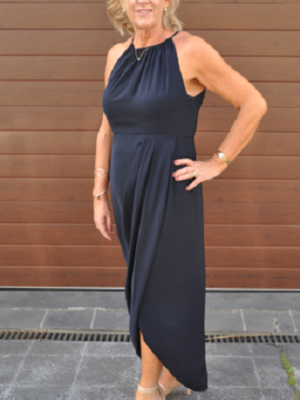 The hardest thing I have had to do at Vision Personal Training Engadine is walk through that front door for my first interview.
Most of my adult life I have struggled with weight issues and as I have got older my health was starting to decline. Not major issues but niggly things that come with having a sedentary lifestyle. Holidays with the family had to take into account that "Mum" wouldn't be able to do that or walk that far etc. I have ongoing back issues which have seen me taking up Pilates through my Physiotherapist over the past two years and I walked fairly regularly thinking this was going to make me fitter, although all it did was give me hip and knee injuries plus I wasn't losing any weight.
By the middle of 2016 I decided that I probably need a Personal Trainer and discussing this with my Physio and Massage Therapist they both suggested that clients of theirs have had good outcomes with Vision Personal Training. I remember Vision PT had a table set up in Engadine Court but I could never get the courage to walk up and talk to one of the trainers. Well the decision was taken out of my hands when I opened a Christmas present and my adult children, concerned for my health, had given me a three-week trial at Vision Engadine.
I think I rang two days before it expired and the initial appointment with Nathan was made. That day I did one of the hardest things and most life changing things I have ever done.
I didn't really understand the concept of Vision however after speaking with Nathan I was willing to trust them to help me overcome my embarrassment of what I have let myself become. After speaking with me, he allocated my Personal Trainer, Josh Richards, we met, he interviewed me and I thought the initial interview with Nathan was hard, but this session with Josh was a torrent of emotions with him trying to get me to work out why I had let myself get to this stage and it has been an ongoing emotional roller coaster ever since.
I started at Vision the first week of the Nine Week Challenge in February 2017 and it took Josh I think three weeks to convince me to join the challenge. I was so negative and scared of any challenges but then I finally found the confidence in both myself and Josh to let myself embrace anything that was offered to me, I was finally listening to my trainer and from there, have complete faith in him to do what is best for me.
The challenge was actually the best fun I have had on this journey. Josh set my training to a level that I could manage although he was always pushing me to improve with working with the physical limitations I have. From the outset I have religiously used the VVT app to record what I eat. Everything I eat goes into that as I am only lying to myself if I don't put it in. I have to say I have made sacrifices, I haven't had chocolate or cakes since I started. Starting Vision was kind of a line in the sand moment for me. I ate that before Vision but not now and it has definitely paid off for me.
Since starting at Vision Engadine I have lost 45 kilograms and am at a fitness level that I have never been. I now feel strong and confident in my ability and my life.
For anyone that thinks they cannot do exercise because it hurts too much or they are too unfit or even they are too embarrassed to put workout clothes on, I was all of that and so much more but please know, this has been a life changing experience for me. I have met so many new friends and so many supportive people who love to give you encouragement just for walking in that front door.
Engadine Success Stories
Our holistic approach to emotions, education, eating and exercise has transformed thousands of people across Australia & New Zealand. Get inspired by the journeys of your latest clients.
Are you our next success story?
Give your goals the greenlight and join us. Book your free consult now.