Before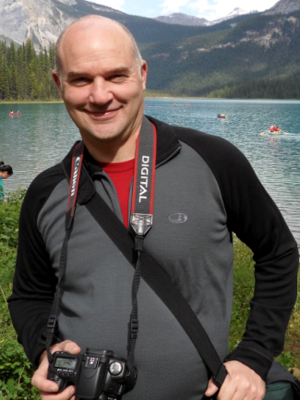 After
Rob started with Vision after his Wife Anita came into the studio to buy him a gift voucher for his birthday to help motivate him, to get his health and fitness back on track.
"I was feeling Terrible, fat and unfit. For 18 months I'd focussed far too much on work, and not at all on my health and fitness- Big mistake and it added 7 Kgs to my normally slim body''
''The initial goal was to simply lose a few kilos and improved my general fitness. Somehow though, Rowan quickly managed to talk me into training for a 10Km run''
''The change in diet was a bit of a challenge. I've worked through low calorie diets before, but never tried a high protein/low carb combination. I have to say, it's really effective. The hardest part of the nutrition program is managing to find a good variety of suitable meals, but the results are great and I almost never feel hungry. Recording every meal is really important and definitely helps keep me on track. It's a bit of a pain at first, but when you don't track it's so easy to blow the diet budget at the coffee and cake shop. When I first joined the program, I was worried that I wouldn't be able to find the time to complete all my weekly training sessions. As it turns out, that's never been a problem. I'm exercising pretty much every day, usually early morning, and that's given me two big benefits. Firstly, I get my training done early and can feel good about it for the rest of the day. Secondly, it stops me spending all my time in an office, and that's a real bonus''
Robs next goal is to run the half marathon in May, and with Robs focus and commitment we know he can do it.
Darlinghurst Success Stories
Our holistic approach to emotions, education, eating and exercise has transformed thousands of people across Australia & New Zealand. Get inspired by the journeys of your latest clients.
Are you our next success story?
Give your goals the greenlight and join us. Book your free consult now.