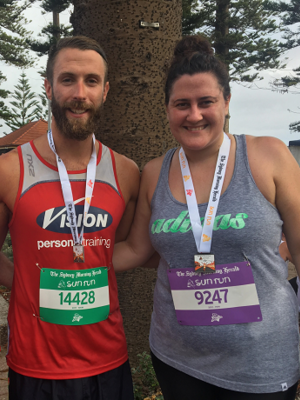 I made the decision to join Vision Personal Training as I was unhappy about my weight & well-being, I needed guidance & motivation to train in order to help bring back the love of exercise I used to have. The Studio was convenient for me being opposite my workplace, which meant I had no excuse not to go. I found the service very personal from the day I started.
My goal was first and foremost to improve my health followed by weight-loss and self confidence. I was told by doctors before signing up that I was pre-diabetic and my lifestyle had to change. When I joined, this was Rowan & Vision Darlinghurst's number one priority was to help me in getting my health back on track through fitness and diet.
In 6 months, my insulin levels dropped significantly from being pre-diabetic, to under the normal range. I have also lost 5kgs and generally feel fitter, healthier and happier.
The VVT app assisted me with my food plan, allowing me to see the Macro's that I should be aiming to reach each day. Having had to reduce my sugar intake, and increase my protein, the app allowed me to see where I needed to make changes throughout the week.
With the help of Rowan & Vision Darlinghurst, I have been given the knowledge to sustain my results through healthy eating and exercise. I now know what foods I can eat that won't affect my insulin levels, which as a result has been able to assist me with weight-loss, and therefore giving me more confidence and happiness in myself. Most importantly, I can stop taking medication in order to reduce my insulin levels now that I have been able to drop them myself from change in lifestyle and healthier habits.
I suffered from a loss of motivation and frustration. Having PCOS meant that any results weren't immediate and it was taking its toll on my performance both in and outside of the Studio. Rowan continued to motivate & push me, provide me with positive feedback and sometimes force me (in a good way!) knowing that I was eventually going to start to see the results I needed.
Darlinghurst Success Stories
Our holistic approach to emotions, education, eating and exercise has transformed thousands of people across Australia & New Zealand. Get inspired by the journeys of your latest clients.
Are you our next success story?
Give your goals the greenlight and join us. Book your free consult now.