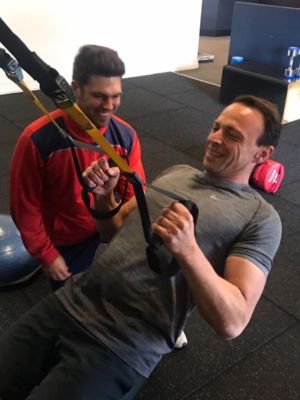 Ray is a very busy businessman that has a full schedule and epitomises a make time philosophy for his health and well-being.
Training hasn't been the challenge at all, we get it in mostly 2-3 times a week, the stumbling block was portion sizes and a lack of knowledge around calories and the impact seemingly under filling foods can have in terms of the overconsumption of calories.
Ray was smashing nuts 30 at a time up to twice a day which contains a hell of a lot of calories thinking he was making a good choice, which he was, nuts are a great source of fats however the sheer volume of calories he couldn't comprehend.
A serving of almonds as an example (12 nuts @ 30g in weight = 15g Fat and 135 Calories) Ray was having 5x that a day just from nuts.
So, once we understood this, balanced it out and tweaked Ray's nutrition ever so slightly the results followed with a 7% reduction in body fat from 24.4% to 17.4%.
'I can't believe the difference', well believe it mate you are looking on par with the Trainers in the studio and it's a pleasure to have you here, thanks for the laughs and congratulations on your new and improved physique.
Rose Bay Success Stories
Our holistic approach to emotions, education, eating and exercise has transformed thousands of people across Australia & New Zealand. Get inspired by the journeys of your latest clients.
Are you our next success story?
Give your goals the greenlight and join us. Book your free consult now.