Before
After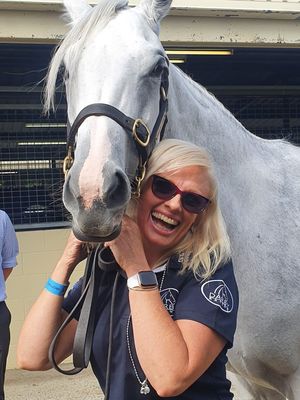 In 2012,at the age of 45, my weight reached an all-time high of almost 85kgs. At just 158cm tall I was well and truly overweight and convinced myself I looked great by dressing well and always ensuring my hair, make-up and nails were spot on. Underneath that façade was I a very unhappy person. Unhappy in my marriage and unhappy with who I was.
As it happened, a Trainer from Vision Personal Training came to my business offering free health and fitness assessments and 2 free PT sessions. I reluctantly agreed. To my surprise I started to enjoy the journey and over a period of 12 months managed to get my weight down to 66kgs.
As my marriage fell apart, having to leave QLD and move back in with my parents and through the pressures of a nasty drawn out divorce I ballooned back up to 77kgs. I was living in Sydney with my parents, had managed to find a job I loved but was still very unhappy. In October 2019 I decided to try and take control of my life again. I started walking and making better food choices and reducing my portion sizes. All skills I was able to draw on from my time at Vision. By the time I had decided to move back to QLD, COVID had reared its ugly head and I went into lockdown with my parents in Sydney. I had already touched base with my long-time Trainer Haydn Kiel who knew what I had been through over the past 8 years or so and was more than aware of the emotional stresses that triggered my weight gain. We started on-line PT in March 2020 and in May 2020 I moved back to QLD and was able to start face to face training again in July. It had always been a battle to get my head in the game but Haydn persisted. As I settled back into life in QLD, picked up with old friends, and made new friends I was finally ready to tackle my health and fitness journey head on.
It is now June 2021 and I know I have now changed my life forever. I have lost close to 30kgs since I first started with Vision back in 2012. In the past my level of happiness was directly linked to my weight gain. My life is not exactly as I would like it, I still have down days but the fact that my health and fitness are a priority and the fact that I feel and look so much better physically improves my outlook on life and my overall happiness. I am not dieting, I simply choose to eat well, I genuinely prefer the healthy option and I love to exercise. My entire mindset has changed. I am happier, healthier and fitter than I was 20 years ago. I could NOT have achieved so much without Vision.
The friendships, the sense of community, the camaraderie, the on-going support have all contributed to my success and I am forever grateful to my long-time Trainer Haydn Kiel. I know I would never have made it without Haydn's relentless support, guidance, patience and empathy. This is the new me and I love the new me.
Bundall Success Stories
Our holistic approach to emotions, education, eating and exercise has transformed thousands of people across Australia & New Zealand. Get inspired by the journeys of your latest clients.
Are you our next success story?
Give your goals the greenlight and join us. Book your free consult now.