Before
After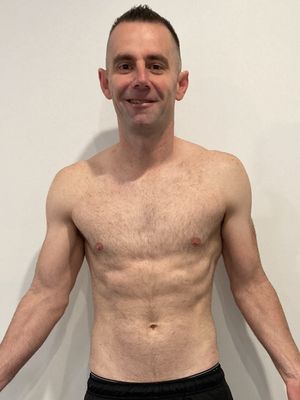 Initially I started my search around Engadine looking for an exercise physiologist to assist with my knee rehabilitation following a serious soccer injury including an ACL tear and knee dislocation. I was hopeful that I could find a Personal Trainer that would help design a strength and conditioning program to help get me back to full fitness.
What I ended up finding with the support of the great team at Vision was so much more. From the outset tracking my meals via the Vision app made me accountable for diet choices. I had many bad habits and was consuming unhealthy take away foods regularly. Some key changes including focusing on eating fresh wholesome food and meeting my daily intake targets. When eating out I looked for the healthy option on the menu and effectively eliminated fried foods, high processed meals and snacks and all sugar based drinks with a focus on low carb and high protein options. Eating 6 healthy meals a day became my routine. I felt I had more energy, I enjoyed my food more and even had an improved sense of taste. I was enjoying eating healthy more than I thought I ever would.
Apart from feeling great I starting getting results on the scales immediately and this kept me motivated. Working with Nathan and Antione my exercise routine focused on whole body fitness and in particular low leg strength and function. My progress was tracked weekly with consideration regularly given to advancing to more challenging exercises with heavier weights. The progress over the 12 week program was significant. The improved strength, function and overall fitness allowed me to return to other activities I enjoyed such as cycling where I was setting new personal best times on rides through the National Park.
Overall I lost 15kg's in 12 weeks in the Vision program and regained function, strength and confidence to help with my ongoing rehabilitation. Thanks to the Vision team for creating such a positive and happy environment and for changing my life forever!
Starting Weight: 94.9kg
End Weight: 79.4kg
Engadine Success Stories
Our holistic approach to emotions, education, eating and exercise has transformed thousands of people across Australia & New Zealand. Get inspired by the journeys of your latest clients.
Are you our next success story?
Give your goals the greenlight and join us. Book your free consult now.