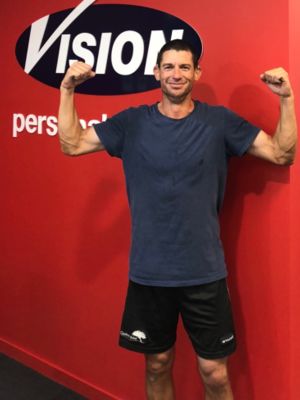 I joined Vision Kogarah because I tried to lose weight and ended up putting it all back on. I was playing sports for 25 years but when I stopped I put weight on very fast. I definitely felt unhealthy, constantly tired and lacking energy before Vision. I wanted to get in shape once and for all.
Dimi, my Personal Trainer has taught me lots about good nutrition and effective exercises that help make me lose weight and also build up my fitness levels again.
Diets are a massive waste of time, real sustainable weight loss results come from lifestyle changes. Vision provides a framework that allows you to make the changes you need to lose weight. Remember you can't out train a poor diet so focus on organising your nutrition and the results will appear.
I am very happy with the results I have achieved and I want to keep continue on training and complete a half marathon in 2018 and also be 8% body fat.
Kogarah Success Stories
Our holistic approach to emotions, education, eating and exercise has transformed thousands of people across Australia & New Zealand. Get inspired by the journeys of your latest clients.
Are you our next success story?
Give your goals the greenlight and join us. Book your free consult now.