Before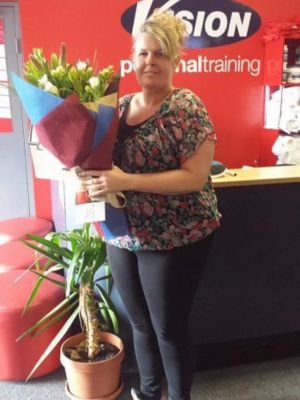 After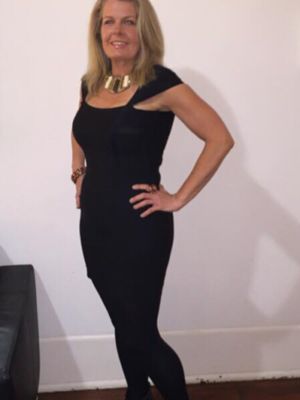 I grew up hating exercise. The only way I stayed thin was by crazy diets and mild eating disorders. Over the years bad habits and inactivity led to massive weight gain. I first joined Vision to prove to myself that I could actually achieve something I put my mind to without giving up when the going got tough.
I started gaining weight 10 years ago, steadily increasing after the birth of my son. Despite a few attempts at losing weight, it was always short lived with bursts of healthy eating and exercise followed by inactivity and poor eating habits. I suffered from depression and lethargy. Despite instilling healthy eating in my son, I knew I was setting a bad example and not being the positive role model I should be. Even though I knew what I had to do, I felt trapped by my unhealthy habits. Joining Vision Personal Training meant that I could achieve lasting change.
The 9 Week Weight Loss Challenge focused my determination and weekly goal setting was a key in taking it one step at a time. I couldn't have done it without my Trainer who really understood my issues, motivated me, pushed me and supported me when I needed it the most. The constant reassurance and comradery from not only my Trainer but the entire Vision Darlinghurst team made me feel part of something positive. The entire team instilled a belief in me that I could make a positive change. The support of like-minded people, being the other Vision members, offered countless praise, understanding and laughter. All of these things combined have contributed to my success.
In the last year I have completely transformed my health and wellbeing. I have far surpassed the goals that I set when I first stepped into Vision Darlinghurst with low self-esteem, fear, depression and an extra 34kg. Feeling fit for the first time in my life feels so amazing. The best reward of all is making my son proud of me.
Vision provides the total framework for lasting transformation. I still have difficult days but I not only have my Vision "family" for support and encouragement, I now have my own personal vision of where I want to be and how I want to live. And for me the sky's the limit!!
Darlinghurst Success Stories
Our holistic approach to emotions, education, eating and exercise has transformed thousands of people across Australia & New Zealand. Get inspired by the journeys of your latest clients.
Are you our next success story?
Give your goals the greenlight and join us. Book your free consult now.