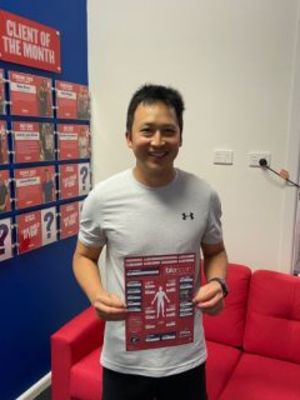 How did you find the Vision Randwick experience overall?
Not to overstate things, but the Vision experience has been truly life-changing for me. In the midst of working from home mid-2020, I had developed poor dietary and activity habits resulting in accelerated weight gain, poor self-image and an increasingly lethargic lifestyle. Joining Vision, in partnership with some amazing trainers including Lou and Conor, helped me to course-correct with a focus on setting achievable weekly goals laddering up to the achievement a significant longer-term ambition which has really fed my appetite for constant progress and internal competitive nature to strive for impactful change.
What lessons have you learned along the way?
The individualised Vision approach is all about YOU and provides a comfortable balance between understanding the nutritional impact of the consumption of Carbs, Proteins and Fats together with a continually evolving program of, in my case, Cardio and Weights that aligns with personal goals. It's this balance which has taught me more about making and living out a sustainable lifestyle change with healthier habits vs. going cold turkey on food types, fad diets or hitting the weights hard before your body is ready. And the results speak for themselves.
What is a major achievement through being a client at Vision?
Winning the 'Body Breakthrough Challenge 2020' was a huge but fulfilling surprise, reward for the hard work and discipline which I couldn't have imagined putting in, when I was blowing out some months earlier. But more than that, the permanent changes to diet and activity, losing the COVID kilos and keeping them off has been the most pleasing achievement of all.
Would you recommend us to friends and family? Why?
Absolutely, yes I would. First and foremost, the team at Vision Randwick really do love and care for their clients. As above, the culture and environment are all about help clients achieve their goals and supporting them in whatever way possible on their journey (even when they move overseas like me and are now training online). Also, I have never been a big 'gym junkie' due to my perception of it being a very individual pursuit. At Vision, there is also a great sense of community within the studio, whether it be those being pushed hard (in a constructive way) during PT sessions, or those giving it all during their own extra workouts. Everyone is there to better themselves and encourage each other towards that common goal. I cannot recommend Vision Randwick highly enough! Sign up and change your life too!
Randwick Success Stories
Our holistic approach to emotions, education, eating and exercise has transformed thousands of people across Australia & New Zealand. Get inspired by the journeys of your latest clients.
Are you our next success story?
Give your goals the greenlight and join us. Book your free consult now.