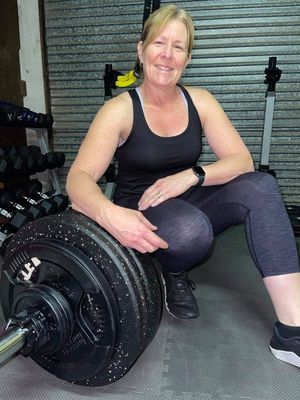 After having my plans/goals changed twice last year, initially with wrist surgery then with Covid restrictions, going into lockdown again for the second time this year I was deflated and upset we were having to do this again and felt like I was never going to reach my set goals.
With the encouragement and complete support from my trainer Trent we decided not to let this happen again. I am lucky enough to have had equipment at home and Vision Engadine had generously lent me a bar and some weight plates to continue my training in a home gym set up by my husband in the garage.
A few weeks into lockdown I won a competition for some gym equipment and was then able to buy more equipment of my own. During these weeks in lockdown my training began to feel somewhat normal, there were some flat days initially, but Trent encouraged me and virtually kicked butt and I now look forward to every session. He is just as determined to get the best out of you online as he is in person.
My kids have learnt how to spot for me when needed. I have made gains in my training and hope to reach the point where I can then take part in a powerlifting competition as planned when the world opens again. My perception of success is achieving something that I out set out to do. I feel like I am now progressing and achieving small goals along the way to ultimately reach my end goal.
A lot of credit goes out to Trent for keeping me focused. The whole team at Vision Engadine have gone above and beyond to keep everyone connected and training. Don't give up on your goals, situations can sometimes force us to alter them but never give up. I am feeling much better now that I have settled into a routine and am happy that I have been able to continue with a similar program to what I was doing in the Studio.
Engadine Success Stories
Our holistic approach to emotions, education, eating and exercise has transformed thousands of people across Australia & New Zealand. Get inspired by the journeys of your latest clients.
Are you our next success story?
Give your goals the greenlight and join us. Book your free consult now.