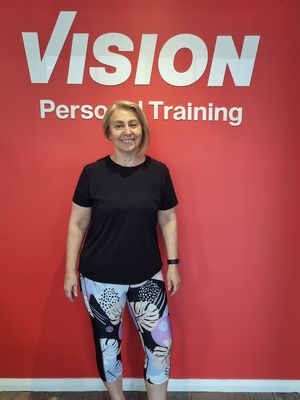 I joined Vision in May 2014, an unhappy middle aged women in need of a change. Over the years Vision helped me get to the best possible person that I could be. I was strong, I was active and I was happy with myself. In 2020 (the year that we will all never forget) I was told that I needed a knee replacement, my trainer and I made sure that I was in the best position physically for my operation. As we all know sometimes things do not go to plan, I was one of those 0.01% - I was out of action for nearly two years.
During that time there were some very dark days, I had put on 25 kilos and there times where I just wanted to give up. One day things just clicked, I looked at myself in the mirror and decided that I had to do something that could give me some semblance of a better life. One of the first decisions I made was to get back to Vision.
I came back in September 2021, I needed the encouragement, the accountability and the teamwork that my trainer and I have. The main focus was on losing the weight that I had put on and my goal was to gain the strength to use the leg press machine. With a lot of hard work and advice and guidance from my trainer, I have lost 15kgs and have strength in my knee to be able to fold myself into the leg press machine and actually lift some weight. There were a lot of others that are helping in my journey but Vision was by far the pivotal moment where I knew I could do this.
The holistic approach to healthcare, the dedicated trainer, the regular check ins were all a big part of my recovery and where I am today. There is still a long way to go however I feel like I am getting "me" back. I am testimony to Vision not being a short term solution but a way of life.
Wollongong Success Stories
Our holistic approach to emotions, education, eating and exercise has transformed thousands of people across Australia & New Zealand. Get inspired by the journeys of your latest clients.
Are you our next success story?
Give your goals the greenlight and join us. Book your free consult now.