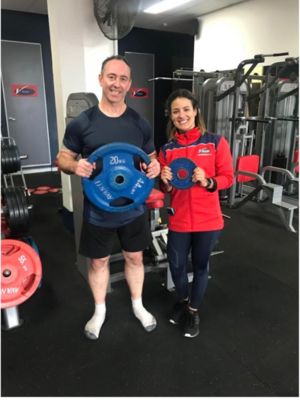 Chris began with Vision in February 2018 after meeting his trainer Fernanda through a business networking group that they both attended.
Having played competitive sports for most of his life, Chris had found the last 10 years a lot more difficult to keep up with a healthy lifestyle- like most people he found it hard to get that work life balance of working and being a father.
"I had tried and failed many times over the years to be consistent with my training and eating"
His goals were to lose 20kgs, lose 12% body fat, reduce his dangerously high visceral fat levels and more importantly be able to run around with his two young sons.
In 2018, Chris has exceeded his initial goals, losing 30kgs in weight, over 10% body fat, 3 points on his visceral fat and increased his lean body mass by 15kgs.
"Achieving these results has improved my life significantly. I feel younger, more energetic, I can play sports comfortably and can run around with my boys.
I am also sharper at work and can concentrate for longer which helps my business and I'm even thinking about starting competitive sport again"
Darlinghurst Success Stories
Our holistic approach to emotions, education, eating and exercise has transformed thousands of people across Australia & New Zealand. Get inspired by the journeys of your latest clients.
Are you our next success story?
Give your goals the greenlight and join us. Book your free consult now.