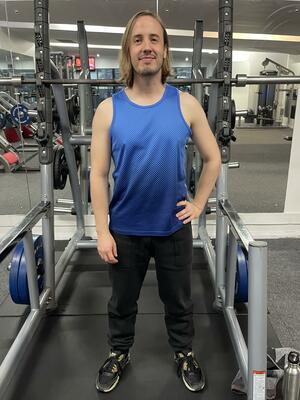 Before joining Vision, I was generally unimpressed with how my body looked, and wanted more for myself. Despite wanting more, I was pretty unmotivated to actually go out and do something about it.
I'd made attempts to get fitter before, but I didn't really know what I was doing, and didn't end up sticking with it - so I never ended up seeing any meaningful results. Besides that, I didn't really know what was out there, or what my options really were. Making the next step was a big hurdle
The most surprising thing I've learned is how health and exercise quickly makes itself a key part of your life. I thought I was doing fine with things like food before, but I had a lot more to learn than I ever thought. Now I make healthy diet decisions I never would have contemplated before, without ever really having to think about it - it just comes naturally.
The biggest benefit I've found is how I've been able to build new, healthier habits. After working with the trainers for so long, building and refining diet and exercise plans, I've found that sticking to these things isn't a chore but rather is almost instinctive now.
If you're on the edge about giving it a go, I'd say do it. The community's a friendly and knowledgeable bunch - you'll end up knowing more and being able to do more than you'd think.
Wollongong Success Stories
Our holistic approach to emotions, education, eating and exercise has transformed thousands of people across Australia & New Zealand. Get inspired by the journeys of your latest clients.
Are you our next success story?
Give your goals the greenlight and join us. Book your free consult now.