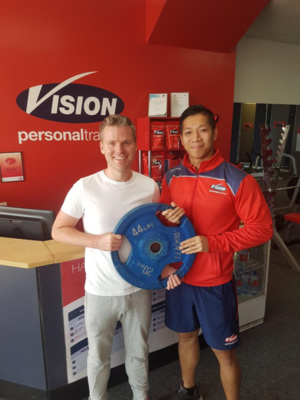 I started gaining weight when I turned 30 and after a couple years, I began to feel self-conscious about my physique. I didn't really pay attention to my diet, and when my metabolism started to slow, this became unsustainable. My brother (who had been with Vision for about a year) recommended Vision to me, so I decided to join up.
I was ambivalent about health and fitness. I hated cardio and didn't know what to do in the gym. I used to think sticking to a healthy diet was difficult and expensive.
When I joined Vision Personal Training, I set out to roughly halve my body fat to 15% over 12 months, gain muscle and increase my chest size relative to my waist. I also wanted to become more confident in using the training equipment and learn how to train for toning and muscle gain.
After 6 months, I have lost 17kg (one-fifth of my body weight). My body fat has declined from 29% to 18%. I have gained muscle and lost 4 inches off my waist. I began to notice the results very early on, after about a week of starting the program, and I lost my first 9kg in 9 weeks.
I now have more energy and feel better about myself. I'm also more disciplined and motivated, which makes every aspect of life easier. I have a greater appreciation that taking small steps now can lead to huge progress over time. Socialising and eating out has been the main barrier to achieving my results. I've managed to cut down on drinking and eating out but finding a balance between socialising and a healthy diet is the hardest part. I also have a knee injury which has restricted the amount of cardio I can do.
Nutritional advice and setting macronutrient goals have been the key to my success. Despite my knee injury and limited cardio, I've managed to achieve my goals and lose weight by sticking to my macronutrient goals most of the time.
I would definitely recommend Vision. My Personal Trainer, Ben, has been really supportive. He has given me good advice about nutrition and training technique that I would not have had otherwise. Training with Vision is easy - you focus on incremental improvement and progress quickly to achieve goals you never thought possible.
Darlinghurst Success Stories
Our holistic approach to emotions, education, eating and exercise has transformed thousands of people across Australia & New Zealand. Get inspired by the journeys of your latest clients.
Are you our next success story?
Give your goals the greenlight and join us. Book your free consult now.