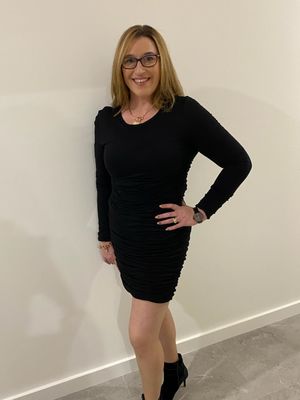 Prior to joining Vision, I had struggled with my weight for many years, adding to the depression and anxiety I already had. I had tried several gyms, and "diets," occasionally losing weight, but unfortunately putting it back on. Like many of us, life takes over and I got stuck in a bit of a rut. The simple things are the most important. Tracking food, the all-important macros are first and foremost. The constant encouragement and support of not just my awesome trainer Scott, but of all the other trainers is amazing. Everyone at Vision, other clients, and staff, are always welcoming and friendly. It's like a big extended family.
The weight loss and strength building, giving me more confidence. I've learnt that I can eat most things as long as they fit in with my daily macros, rather than depriving myself, leading to overeating the wrong things. I've made new friendships with some fabulous people. I think you should definitely try it! The positive environment, the 9-week goals, the group training, the people, the awesome trainers. Physical health plays a big part in mental health, and Vision has been a lifeline for me over the last 12 months.
Wollongong Success Stories
Our holistic approach to emotions, education, eating and exercise has transformed thousands of people across Australia & New Zealand. Get inspired by the journeys of your latest clients.
Are you our next success story?
Give your goals the greenlight and join us. Book your free consult now.