Before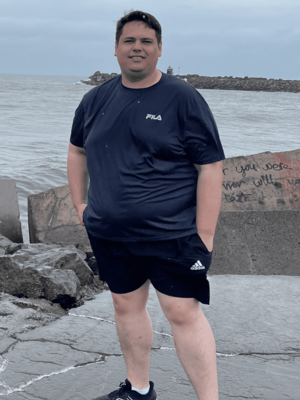 After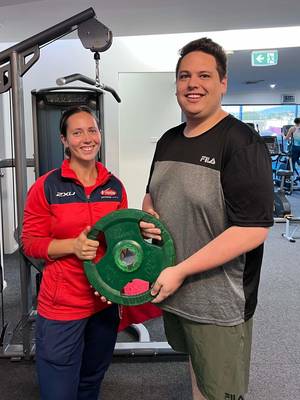 Before I joined Vision, my physical health was something that I actively ignored. I knew full well that both my weight and my physical wellbeing that came with that was not in a good position, but I dodged, avoided, and simply ignored the topic. When brought up in conversation, I would change the topic or make a joke about it and move on. People generally saw me as a confident person, but deep down I knew that my confidence was diminishing because of the slow deterioration of my health over several years.
The reason I hadn't until this moment, is that simply the timing hadn't been right. I'm an incredibly methodical individual and simply like ticking things off the list. Since COVID I've been busy chasing my career, buying my first home, making times for friends and family as well as trying to juggle everything else life throws your way. I had a quiet moment of 3 days before I walked into Vision for the first time, where I told myself. 'Right Bailey. You've ticket everything off the list you can for now, expect that one thing… Your health! That day I sent off my enquiry form to Vision, 2 days later I had my first consultation. That old mantra, good things come to those who wait, I just had to wait for my moment and my moment is now happening.
Sport or exercise has never been my thing. Throughout my childhood by the will of my parents and their desire for me to try new things, I would have had to of tried over a dozen different sports in my childhood. I always counted myself out as a person who doesn't do that thing called exercise. But long behold, now 8 weeks into my time at Vision I look forward to my PT sessions. I enjoy coming in and doing my morning cardio. This isn't something I thought I would enjoy and has honestly taken even me by surprise that on those days where work is crazy and I can't get into the Studio, I feel a little sad that I wasn't able to make it in.
Genuine and authentic support from all the trainers and my fellow clients is what has stood out to me the most. The fact I can walk in every day and feel comfortable in my environment where everyone shares the same Vision (no pun intended) to live healthier lives. When I've looked at other gyms before, I've always had the sense of 'I don't belong here' but with Vision, it feels like even though I've only been there a short time I'm part of the community like I've been there forever. To have this supportive environment, it gives me the motivation to continue knowing that everyone around me has my back.

As a complete sceptic myself and thinking that this would be another fad that will pass in my life, to someone who I can say has been able to transform their way of thinking, eating and most importantly, living in what has only been a short period; I feel as if I couldn't have done it without Vision PT. I always believe that their success is my success and to feel celebrated whenever that weight loss bell rings, or when I've been able to add in an extra set to an exercise, it means that I'm succeeding and I'm in an environment where it's not only encouraged but celebrated!
Wollongong Success Stories
Our holistic approach to emotions, education, eating and exercise has transformed thousands of people across Australia & New Zealand. Get inspired by the journeys of your latest clients.
Are you our next success story?
Give your goals the greenlight and join us. Book your free consult now.