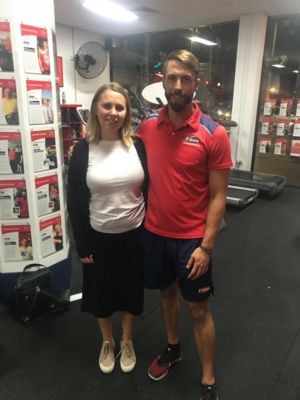 I had been looking at joining up for PT somewhere for a while and Vision/Rowan were really the only place/person who seemed like they were actually interested in helping me. They were persistent without which I am not sure I would have joined anywhere! They were also the only place that had a really welcoming atmosphere, so many places can make you feel like you are just not supposed to be there, but at Vision there are so many health journeys in process and it doesn't matter where you are in yours.
I knew my body was not in the best shape, I had been slowly putting on weight for a few years, and I think I had been shifting the blame from myself on to having PCOS. I think that even though I didn't have the worst diet there are always good changes to be made. I defiantly knew I was not doing enough exercise and I feel like my mental health was beginning to suffer a little bit because of it.
Because this was really the first time I had made a commitment to being active in my adult life I really had no idea what my body was capable of. I knew that my biggest health concern was healing my PCOS. My insulin level was something I felt would be really hard to change but I think getting that under control was my main concern.
In the four months since I started training I have managed to decrease my insulin resistance by over half! I have gone from level 12 to 5! (And to be honest I was so surprised when I found out the first thing I thought was that they must have mixed me up with another patient, to have such good insulin sensitivity after only 4 months. It was too easy!) but it just proved to me how important doing regular exercise is for our bodies.
I also think that a huge lifestyle change is a massive achievement for me too. I have gone from hating exercise to having the motivation and encouragement to get up at before work just to do it, I have also found that I really love boxing, which I never would have tried without Rowans encouragement!
I feel like taking responsibility for what was happening to my body instead of just blaming PCOS for my lazy lifestyle has been huge! It has also encouraged me to take more interest in my diet and understanding how diet and lifestyle changes can affect us. I feel so much more in control of my health and that I am finally on the right track. Yes, having PCOS makes things harder but not impossible by a long shot, and training with Rowan has proven that. I still have a long way to go but I feel more equipped now than I ever have before.
I would definitely say that I have never been someone who liked working out, I think making the initial commitment was the toughest part! And definitely lacking the self-motivation to get myself to the gym (because that is the hardest part!), I also think that the lack of confidence I had in regards to working out. before joining Vision, I had had a gym membership for about 3 and a bit years and had only gone a handful of times. And even when I did I wouldn't end up doing anything other than going on the running machine because I had no clue what I should be doing otherwise!
All of the Vision trainers are full of encouragement! They are constantly checking in with you, asking how your food for the week is going, helping you get back on track if it hasn't been so great (without making you feel like you failed even if you did have a few slip ups!) they really help motivate me to get in to gym when I'm not at a pt. Also, I feel like I'm not just at a PT session once or twice a week I am really learning how to activate my body, which gives me the confidence to go to gym alone and understand what I should do and why.
The team at Vision are all so supportive and fun, it makes working out something to look forward to and not to be scared of- anyone can do it!
Darlinghurst Success Stories
Our holistic approach to emotions, education, eating and exercise has transformed thousands of people across Australia & New Zealand. Get inspired by the journeys of your latest clients.
Are you our next success story?
Give your goals the greenlight and join us. Book your free consult now.