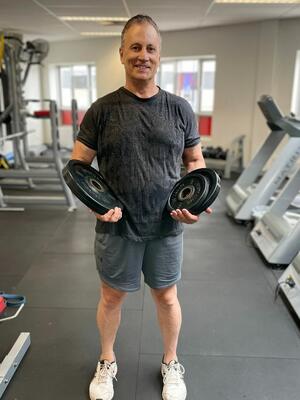 How were things before you joined Vision? I've always trained pretty full on since I was a kid including football, skiing, ice skating, karate, hunting and heavy weight lifting and over the past 30 years mainly martial arts, boxing and gym. I lost my way a little from 2015 as I was working 7 days flat out and was extremely time poor but still training, however, my diet and will power to say no to ice-cream and gallons of milk took a back seat. Particularly during lockdown, I crept up from my usual 85 kilos to around 105k's and with this, my blood pressure crept up and my fitness decreased. My blood pressure when I'm fit is around 120/60 with a resting heart rate in the mid to high 50's. This went out the window when I became a dad bod with a belly and was pre-diabetic.

Tell me about your latest journey? As I'm usually so busy, the past few years has not been easy to knock back the cakes, sweets and crap and the should I-shouldn't I argument was just another chore in my head to contend with. The comfort food and crappy calories usually had the final say and inch by inch I grew larger. Even with boxing and gym 5-6 times a week, my calorie intake was still excessive and although I was strong had gained more muscle, I didn't want the pudge. So I joined Ivanhoe Vision to have a calorie plan planned, have a few extra workouts a week and most importantly, someone to answer to and keep me focused on my goal to shred the body fat kilos. I'm down to around 86-87k's at the moment and blood pressure is back to excellent with fitness performance in the upper level.

What would you tell someone who is thinking about joining Vision? If you've never really been a gym or sportsperson or even if you have, this is the go to place for a fitness/body composition evaluation and an opportunity to set or re-set your fitness and health goals. I'm pretty much back on track again thanks to Vision!
Ivanhoe Success Stories
Our holistic approach to emotions, education, eating and exercise has transformed thousands of people across Australia & New Zealand. Get inspired by the journeys of your latest clients.
Are you our next success story?
Give your goals the greenlight and join us. Book your free consult now.