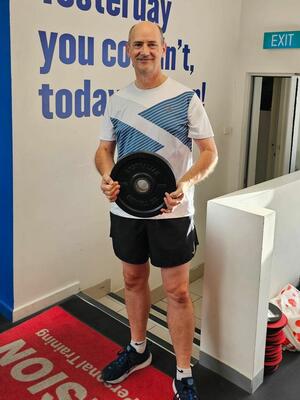 How was your health and fitness before you joined Vision? My health was ok, although I was feeling the extra kilo's that I'd put on over the last few years and was feeling sluggish, finding it difficult to get motivated. I've been a member of another gym for a long time, but just hadn't been going regularly, wasn't finding it inspiring, and consequently wasn't getting any results! I'd also slipped into the habit of ice cream or chocolate most nights (ok who am I kidding, every night) and the weight was just slowly creeping up

Tell me about your recent training? Since joining Vision, I've been training twice a week with Lukaz and joined two group training sessions at Vision (Monday morning and Saturday morning). But to that I've added (when I can) a 2hour mountain bike ride on Sundays, a jog once a week (I'm now up to jogging 5km on the treadmill - this had to be a build up), attend one spin class a week and try to get to a Step Class if possible (I find group training sessions more enjoyable and push myself more in group sessions). I'm now doing some form of exercise 6 days a week. I have just dropped seeing Lukaz to once a week for the next phase and will need to add in weight training by myself. As of today, I've lost 16 kg (that's since January 26th, so roughly 1kg a week for the last 16 weeks) and I'm comfortably running 5km.

What would you tell someone who is thinking about joining Vision? The people at Vision have all been amazing and friendly (I was surprised at how all the PT's remembered my name from very early on and were extremely welcoming and encouraging). The other members have also been extremely welcoming and positive and there is an overall great vibe to the Ivanhoe gym (Kyle, Lee and all the staff should be very proud of what they have achieved). The App is fantastic and a massive help in tracking food and macros, and in many ways, it's been the app (including all the support in how to use it) and modifying diet that has been significant in my progress. Overall, I'd say to someone thinking about joining Vision just do it! It's an investment in your health and well being that you won't regret!
Ivanhoe Success Stories
Our holistic approach to emotions, education, eating and exercise has transformed thousands of people across Australia & New Zealand. Get inspired by the journeys of your latest clients.
Are you our next success story?
Give your goals the greenlight and join us. Book your free consult now.