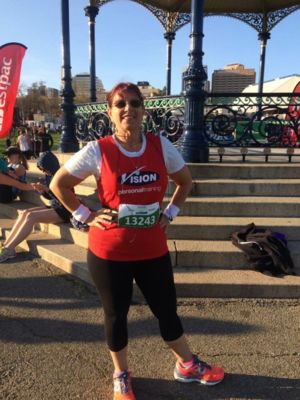 Ricki walked into Vision Southport desperate to get long lasting results. Having tried multiple diets, gyms and exercise regimes with varying results Ricki needed finally to find something that worked!
Coming to Vision after seeing her friend Peggy succeed losing 20kg with Vision, Ricki decided to give it a go. After seeing #thevisiondifference and experiencing there is more to weight loss than exercise programs and low carb diets, Ricki immersed herself in the Vision culture and slowly but surely tried to implement good habits.
Fast forward and Ricki has lost over 10kg, is lighter than she was 10 years ago and is now taking part in multiple running events! This year alone Ricki has completed The Gold Coast Bulletin Fun Run, The Gold Coast Marathon weekend, Bridge to Brisbane and now the PB 12km fun run in Adelaide! All this from a lady who said "you will never get me to run, my knees are stuffed"
By setting small weekly goals and constantly improving, week by week Ricki has seen the weight come off and the fitness improve. By regularly tracking her food, exercise, attending all Education sessions at the studio and becoming a real part of the Group Training Culture Ricki has turned her life around into a real positive! We are right behind her as she continues to progress and move forward!
Southport Success Stories
Our holistic approach to emotions, education, eating and exercise has transformed thousands of people across Australia & New Zealand. Get inspired by the journeys of your latest clients.
Are you our next success story?
Give your goals the greenlight and join us. Book your free consult now.