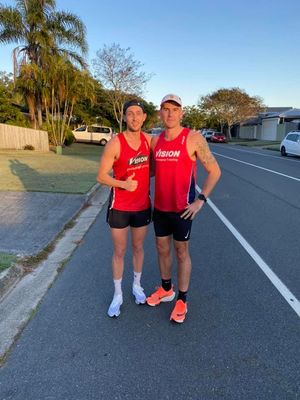 Nick was always a talented junior athlete, playing years of junior soccer, swimming and lifesaving in his home town of Bundaberg. Fast forward a few years and plenty of ups and downs, Nick made a change late last year when he moved to the GC. He was always one of the most talented athletes, but his body let him down having multiple knee surgeries and issues on rehabilitation. He just wanted to get fit and use his body to the potential he knew he had.
Nick has been training at the Studio now with Luke almost a year for his PT and working with Jack on his running. He started slow, just building a base of kms to get him stronger and more resilient whilst getting his aerobic fitness higher. As he have moved into 2021, he's hit a new level. He set a goal of doing his first half marathon with an average pace of 4.40/km at the GC marathon, the event was canceled but he did it together with Jack anyway averaging 4.39/km- goal achieved. ✅
Back to the drawing board for the next goal, to average 4.15/km at the 10km run and the Sunshine Coast running festival in August 2021. It's been canceled again, but guess what, he did it anyway and achieved a pace of 4.08/km To top it off, this month, he ran his longest ever run of 25km together and he did it with a smile. ✅
We are so proud of Nick's progress, being able to guide him and keep him moving forward is an absolute pleasure. For any broken people who think that a running goal is too far away, look at what Nick has done!
Southport Success Stories
Our holistic approach to emotions, education, eating and exercise has transformed thousands of people across Australia & New Zealand. Get inspired by the journeys of your latest clients.
Are you our next success story?
Give your goals the greenlight and join us. Book your free consult now.