Before
After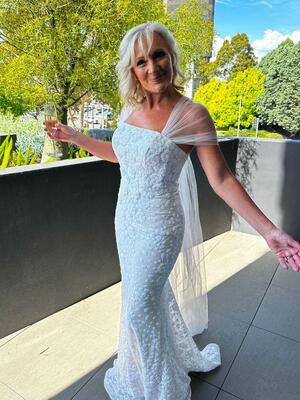 How was your health and fitness before you joined Vision? In the five years leading up to joining Vision my weight had crept up by 7 kg as I had been working long hours and finding little time to exercise. I was incredibly unhappy with my body, which affected my self esteem. My friends told me to stop worrying as weight gain is a normal part of menopause. However, I knew deep down that my eating and exercise habits were at an all time low and I had become lethargic and overweight. When my partner proposed to me last year, I made it a mission to be in the best shape possible for our Commitment Ceremony. I wanted to knock his socks off! I knew that I had to make some drastic changes if I was going to look half decent in the figure hugging dress I had selected for our special day. I chose to join Vision as willpower is not one of my strengths and I didn't want to join a gym with group classes as I was too embarrassed because I was so unfit and there were some exercises I couldn't do due to pre-existing medical issues. So, in October 2022, I entered Vision, in part out of vanity and in part knowing that I hated the lack of energy or motivation I was experiencing at the time. I wanted to feel vital again. With the commitment ceremony on 21 January 2023 and me being totally out of condition at the time, my trainer had her work cut out for her!

Tell me about your recent training? What I love best about training is that it's not only my body that is getting a workout, it's my attitude, my spirit and my belief in myself that gets pumped up too. When I walk up the stairs to the gym, a smile comes onto my face as I look forward to all the friendly faces - not just the trainers, but the other members. I love that I can totally be myself at Vision. I don't worry that I don't have trendy exercise gear or that I go bright red when I exert myself. My trainer, Leah, has become my number one cheerleader and I always look forward to our half hour together. I think Kyle must have intuitively known Leah would be a great trainer for me after my initial consultation, as Leah and I have similar personalities and I can goof around and have fun while still getting pushed to my limits.

What results have you achieved lately? In the first three months, I lost the weight I wanted to lose, and was fitting once again into my old wardrobe. I felt a million bucks walking up the garden path to my man on 21 January and I totally knocked his socks off (mission accomplished)! It's now been seven months since I started with Vision, and in that time I've lost 6 kg, gone from a visceral fat level of 9 to 5, my overall health score has risen from 66 to 75/100 and my bio age is now five years younger than the number I celebrated last year. I am still a work in progress and my goal now is all about strength and maintenance. When my two year old grandson comes and runs into my arms, I want to still be able to lift him with ease and give him the biggest squish for many years to come.

What would you tell someone who is thinking about joining Vision? Have a purpose. What will it take for you to feel proud of yourself? It needs to be all about you - get the WHY worked out and focus on how you want to feel and be in one year's time, five year's time, twenty year's time. Make a commitment to your future self, and each time you go to have that extra drink or bag of chips, be kind to your future self and pass on it this time around. Make the small changes that are easiest first, then as you start feeling cleaner on the inside, you'll find it easier to make the harder changes. Trust the process, and although you will undoubtedly have times where things slide, treat each new day as a new beginning and get back on that bike (or treadmill, or rowing machine). What they teach at Vision isn't rocket science, but it is science and it will work!
Ivanhoe Success Stories
Our holistic approach to emotions, education, eating and exercise has transformed thousands of people across Australia & New Zealand. Get inspired by the journeys of your latest clients.
Are you our next success story?
Give your goals the greenlight and join us. Book your free consult now.