Before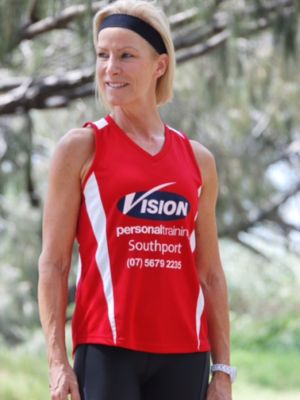 After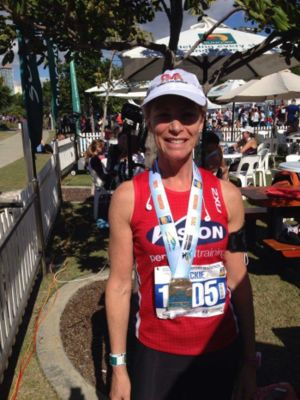 1) Joined Vision Personal Training Southport October 2012
2) Joined the X Training Group Training and couldn't make it around the block
3) Did first Run Club in Jan 2013
4) Managed 3km without stopping by March 2013
5) May 2013 I could run 5km
6) Encouraged to enter the 10km at GC Marathon so started running 3 times a week but also did 3 Group Training sessions
7) First race GC July 2013 - 10km in 59.58 (just scraped sub 60!)
8) Pretty much hit my goal weight by end of July 2013 and halved my body fat. Decided I got the running bug and entered first City to Surf (14km). Did that with my sister and didn't stop - not even up Heartbrake Hill!
9) The "Girls running group" was formed with a view to conquer the 10km in Melbourne that Oct 2013. Got my time down to 55.15.
10) Now running regularly but still doing at least 3 Group Training and Personal Training sessions per week. Body Fat down to 14%
11) Followed a program for half marathon for GC 2014 with Jen - but ended up doing 10km (53.11) - had some hip issues.
12) Completed second City to Surf and shaved 9 minutes off previous year.
13) Continued program and trained regularly with aim for Blackmores Half in Sydney - Sept 2014 - did my first half in 1hr 56 secs. It was after this race I decided that maybe I could do a full marathon.
14) Second Half Central Coast Dec 2014 - particularly tough mentally - 1 hr 57 secs
15) Did a couple of team Tri's (mighty Visionettes) over the summer - can't run well in heat and then Bulletin 10km fun run in April.
16) Feb 2015 started following program for GC Full Marathon for July with Jen. Still doing 3 x training classes/ week too. Followed Vision's nutrition to the gram.
17) After a few hip and back issues managed to get to the start line
18) Net time 4 hrs 23 minutes - enjoyed every step! I had the best support crew and team Vision.
What's next??
Can't miss my favourite race City to Surf 2015....
Blackmores Half in Sept 2015 - want to get sub 1hr 45 mins Start Trail running - who knows - might conquer The North Face 50??? London or Boston 2016....
Southport Success Stories
Our holistic approach to emotions, education, eating and exercise has transformed thousands of people across Australia & New Zealand. Get inspired by the journeys of your latest clients.
Are you our next success story?
Give your goals the greenlight and join us. Book your free consult now.