Before
After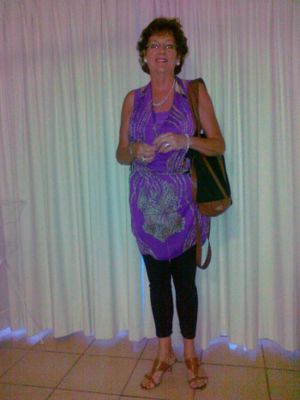 What made you join Vision?
Since having children I have always struggled with my weight, despite being active and watching what I ate. Looking back on those times I now know that i really had no idea on proper nutrition and exercise principles to help keep me fit and healthy. I started with Vision when my son Jack (director of the studio) actively encouraged me to start a weight loss program under his guidance. I was hesitant at first, not knowing what i was in for but i soon discovered the Vision Programming wasn't about cutting my favourite wine and cheese platter, but learning better habits to get me longer term success. I had been in gyms over the years yet felt i really wasn't knowledgeable on how to train properly. Knowing that Vision catered on both of these things I started my journey and haven't looked back!
Tell us about your results.
In the two years since beginning training I have lost over 20kg. Gone are the days where i would go on holidays and gain 5-7kg then spend a month starving myself of food and alcohol to try to get my weight stable again. In my time with Vision i have taken 2 overseas holidays and managed to maintain my weight throughout, whilst still indulging regularly in the process. My blood pressure issues have all but gone and I feel much more capable now to deal with stress. Training has become a part of my life and I find it sets my day/week up when I am training and eating to my plan.
What's the next goal for you?
My next goal is to reach 55kg! I would love to reach that number then sit comfortably between 55-56kg, then I am determined to start running. A 5km or 10km run is the next step!
What do you love most about the studio?
I love coming into the studio and seeing everyone's smiling face, it's great to walk in and have all the trainer's yell out my name and give me a genuine welcome. I feel it's so much more than a gym, the studio is really a place where people feel they can belong and I'm so proud that my son has created this welcome atmosphere for people to feel safe and achieve results. It's changed my life and now I love to see how it is changing so many others
Southport Success Stories
Our holistic approach to emotions, education, eating and exercise has transformed thousands of people across Australia & New Zealand. Get inspired by the journeys of your latest clients.
Are you our next success story?
Give your goals the greenlight and join us. Book your free consult now.