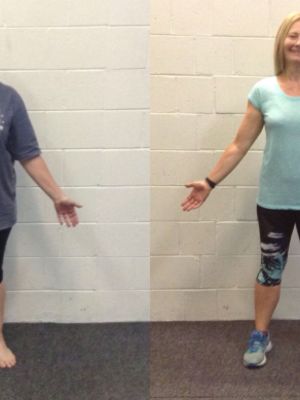 When Edi started at the studio back in August 2017, she was committed to changing her life for the better. Working with her Personal Trainer Elliot, she began to understand the importance of good nutrition and consistent exercise. From week one, Edi made huge positive changes with her training and nutrition, which allowed her to lose weight for over 20 weeks consecutively, totalling a loss of over 23kg by March 2018. Having lost over 85cm from her chest, waist and hips as well, not only was she looking fantastic, she felt it too! During this period, she became more determined to push herself further, and in December 2017 she completed her first Enticer Distance Triathlon. After completing it, she decided she could do a harder triathlon and signed up for the Sprint Distance Triathlon in January of 2018, only 6 weeks after having done her first ever triathlon. Edi has continued with her training and now has her eyes on the 10km run at the GC Marathon in July. Edi has now achieved the perfect balance with her lifestyle, still enjoying her favourite foods, while sustaining her outstanding results, and achieving new fitness goals. She is a massive part of the studio culture, and we love seeing her push herself and others to new limits. Well done Edi, we can't wait to see what other goals you smash this year!
Southport Success Stories
Our holistic approach to emotions, education, eating and exercise has transformed thousands of people across Australia & New Zealand. Get inspired by the journeys of your latest clients.
Are you our next success story?
Give your goals the greenlight and join us. Book your free consult now.