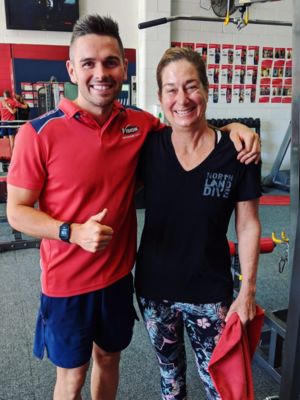 Debra came to the Studio with husband Graeme. Looking to lose a little weight, find a few better habits and improve her fitness so she could enjoy her beloved hobby diving.
Working with trainer Elliot, Debra began the transition into exercise slowly but surely and making small adjustments over time. Elliot decided to introduce nutrition and exercise changes gradually, with an idea that he could help Debra create some long-term habits that will carry over for the rest of her life.
Initially Elliot and Debra saw some changes in body weight and fitness, which started to increase the motivation of Debra, who was now beginning to enjoy the process of getting healthier. Looking over 12 months down the track, Debra has now lost over 10kg and has even started running with Elliot!
She has learnt how to eat well and keep good exercise habits, even on the holidays and trips she takes with Graeme as she has now been educated on how to make the best decisions. She still can enjoy a glass of wine or meal out without guilt, knowing that 90% of her week is perfect.
With an upcoming trip to the Galapagos Islands to dive and explore, Debra is well and truly in the best shape possible to enjoy this amazing experience!
Southport Success Stories
Our holistic approach to emotions, education, eating and exercise has transformed thousands of people across Australia & New Zealand. Get inspired by the journeys of your latest clients.
Are you our next success story?
Give your goals the greenlight and join us. Book your free consult now.