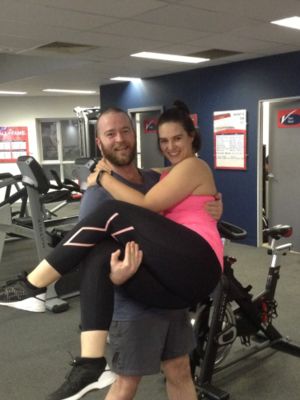 How were things before you joined vision?
We'd both let our working lives become a barrier to being both fit and healthy, at times becoming so immersed in that, that we let ourselves suffer as a result. We more often than not found excuses that we didn't have enough time or we were too tired at the end of the day to find time to exercise, or to really put any thought and planning into what we were eating, usually going for the convenience of take away rather than making an effort to eat well. Coupled with the fact we both found the idea of a typical gym a little intimidating, not knowing where to start, what to do, how to do it and I suppose having the fear of judgement of others - we found ourselves constantly putting off making a change.
Tell me about the you journey (the highlight of it)
From our first meeting with Kyle, to our first sessions with Joel & Marvin, it was both a bit exciting and a bit terrifying thinking about what we were about to do. How would we go from being quite inactive to devoting time to looking after ourselves? It didn't take long for the excitement to take over and the fear was replaced with really looking forward to our next PT Session or Group Class, for first timers though, we highly recommend using the hand rails on the stairs after your first bottom line class. The biggest highlight for us though is that we've had ALL of the trainers be a part of our journey in some way and that for us told us we'd definitely made the right decision to be part of Vision Ivanhoe.
What results have you achieved?
We've lost 16kg and 10kg each which is great, but more importantly for both of us, we've made massive improvements to both our fitness in general and our health and wellbeing. With the help of Joel & Marvin (and the other trainers), we've built a more holistic understanding of how our habits affect our health and fitness, and we've also been able to see what our bodies are capable of doing and we try to push ourselves further every time we come in. We both now regularly do fun runs, which before starting, we weren't sure about the "fun" part, but joining in with all the Vision family and making a morning out of it rain, hail or shine has helped us find the "fun" in these runs.
What would you tell someone who is thinking about joining vision?
For anyone who is thinking about joining Vision we'd say it's a decision you won't regret, it's already made a huge difference in our lives. Sure, you have your own trainer, but everyone at the studio is there to celebrate your achievements and help you grow as a person, willing to talk, help where they can and to see you reach your goals, and that's both the trainers and other clients, it genuinely is more of a community than just another fitness centre or gym.
Ivanhoe Success Stories
Our holistic approach to emotions, education, eating and exercise has transformed thousands of people across Australia & New Zealand. Get inspired by the journeys of your latest clients.
Are you our next success story?
Give your goals the greenlight and join us. Book your free consult now.