Before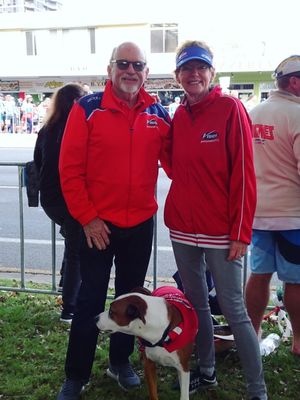 After
Bruce has been training here at the Studio for over four years now and found some fantastic lifestyle and health improvements. At 71, he's healthier than he was in his 60's! When he began training at the Studio, Bruce had multiple complications with Diabetes including loss of strength and feeling in lower limbs. Paired with pain in lower back and legs, Bruce was incredibly frustrated with his situation. Having seen his wife Fleur lose and keep off 20kg training at Vision, he decided to take some action and get into training as well.
Over a period of time, slowly but surely Bruce has improved his strength, mobility and overall fitness. He's made brilliant reductions to his alcohol intake, increased his total amount of weekly exercise and now loves weight training. He regularly does 10km + morning walks along the beautiful Gold Coast Broadwater, when looking back a couple of years ago he wouldn't walk more than a kilometre with the pain caused.
His PT sessions he now loves to push the limits, doing weight sessions that people in the studio 20 years younger are envious of with the intensity and load he can work through in a PT weight session. Most importantly though, alongside these physical improvements we look internally to see where the real shifts have come. His resting blood sugar is now in a healthy range meaning his diabetes is under control, he consumes less alcohol and has drastically improved his nutrition habits to a point where he has energy flowing at all times.
Putting all this together has helped improve mental health too. Looking back a few years, Bruce had multiple issues that weigh heavily but as he's improved in all areas, his outlook on life has too! Living on the Gold Coast and being able to walk our beautiful coastline, training regularly and seeing consistent progression, then having health markers always improve has combined to make Bruce feel fit, healthy and strong at 70!
Southport Success Stories
Our holistic approach to emotions, education, eating and exercise has transformed thousands of people across Australia & New Zealand. Get inspired by the journeys of your latest clients.
Are you our next success story?
Give your goals the greenlight and join us. Book your free consult now.