Before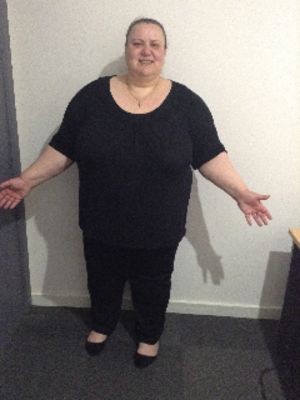 After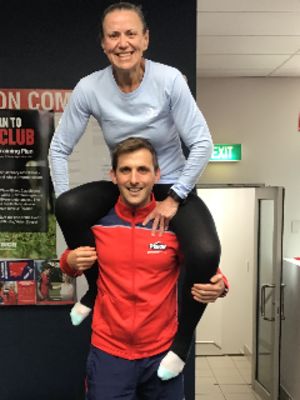 •How were things before you joined Vision? 
Before I started with Vision, I never did any activities or exercise. I couldn't walk for a couple of minutes as I would be out of breath and my back would be in pain. I would just sit on the sofa every day, all day as I could not do anything, my body wouldn't allow me to do so due to my obesity. At the time I didn't even think I had a problem because I would say to myself, I f I can get out of bed and still get dressed and go to work and still do the daily things, I didn't have a problem. I was in denial and I knew it but I didn't not want to admit it.
•Tell me about your latest journey (the highlight of it)
Walking into vision I had no expectations as I had joined other gyms and, in my head, said this would be the same as others. I was given 12 sessions as a present from friends who were concerned for me. From the beginning I was not happy to be there but I willing to give it ago. When I weighed in at 206.5 kilos, I was shocked as I was not aware, I was that big. I decided to set myself a goal and not eat any junk food or drink alcohol for 1 year, this was the best thing I had done as I lost 100kilos in the first year. Kyle my trainer (who now I call a friend) has always been there for me and still is and has encouraged me to keep going even though so many times I have wanted to quit, I cannot thank him enough. I still have my good and bad days but that's just part of the process for me to live a healthier life, that is my main goal.
Exercise now is a part of my life, something I cannot believe I say now. I walk every day after work and run & walk on the weekends.
The last year alone I completed 27 events and 14 them were running events. You see I could never run in the past but now it's something I enjoy doing which was inspired by Kyle. What I have learnt through the last 2 years being with Vision is anything is possible if you just believe in yourself.
•What results have you achieved lately?
The biggest two achievements for me so far is getting to my goal weight and loosing 138 kilos, running my first half 21k marathon, something looking back 2 years ago I thought was not possible I have many more goals to achieve as goal setting is now part of my daily routine. I feel more confident and happier than I have ever felt before and cannot wait to see what else is in store and hopefully inspire others.
•What would you tell someone who is thinking about joining Vision?
Everyone says the first step is always the hardest, and it's true, I won't lie, but it gets so much easier through the journey, trust me, I am living proof.
Vision makes you feel like you are part of community called family and you not judged just always welcomed with open arms by the trainers and clients. If you follow and trust the process and start getting the results you just want to keep going. I recommend everyone to pick up the phone and give Vision a call, trust me you will not regret.
Ivanhoe Success Stories
Our holistic approach to emotions, education, eating and exercise has transformed thousands of people across Australia & New Zealand. Get inspired by the journeys of your latest clients.
Are you our next success story?
Give your goals the greenlight and join us. Book your free consult now.