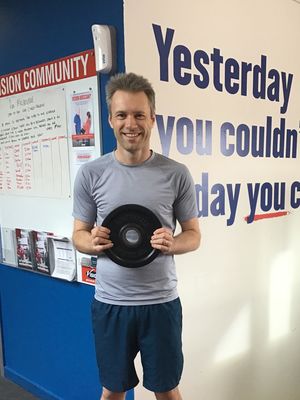 I have always been active and enjoyed sports, but over the years, I was becoming less active and my weight was fluctuating as life became busier. Definitely, my energy levels were reducing. I would try exercise routines and dieting, but with little consistency. I am a keen golfer, but felt I was beginning to lose my game as I was becoming weaker. I wanted to turn things around and with the help of my personal trainer, Marvin, I feel I have achieved great results in the last couple of years. Marvin's passion for his work and motivational personality has had a massive impact on my health and fitness. I feel so much stronger and fitter than I have ever been and am enjoying my passion for golf so much more.

Marvin has helped me lose 5kg in the last 18 weeks and I have managed to lose fat and gain muscle during this time. This was especially important to me after the last couple of years of lockdowns. Marvin's knowledge of nutrition has helped me balance my food intake and I now have a greater understanding of what works for me. I have significantly increased the amount of weight I can lift in the studio, I have also participated in many fun runs with my family. I have loads of energy now and really enjoy taking my kids swimming, running and playing tennis with them regularly. My golf game has improved so much with the strength training, that I am now aiming to get to scratch by the end of the year. Most importantly, I feel much less stress with being fit again.

I would advise anyone thinking about wanting to regain their fitness to join Vision. Marvin has helped me so much to get back to my old self. Vision is a very friendly, inclusive and welcoming personal training studio and I enjoy spending time there participating in classes, attending PT and engaging in a consistent fitness and nutrition regime.
Ivanhoe Success Stories
Our holistic approach to emotions, education, eating and exercise has transformed thousands of people across Australia & New Zealand. Get inspired by the journeys of your latest clients.
Are you our next success story?
Give your goals the greenlight and join us. Book your free consult now.