Before
After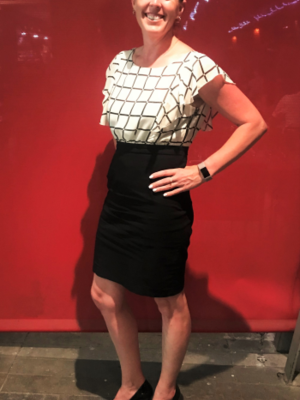 My Journey began in the lead up to May 2017…. I would wake up every morning and dread the walk of shame from the bed to the shower walking past numerous truthful mirrors that at times I wished they would tell a small lie… knowing that I have looked much better, constantly reminding myself that if I don't improve my situation soon I would be contributing to the ever present effects of aging by exposing myself to other harms that are associated with being heavier then I should be.
My name is Tracey Choice and I live in Sylvania, I am 46 years of age and work behind a table for the vast part of the 8 - 10 hours I am at work. I have always fluctuated 8 to 10kgs and was probably my heaviest in May 2017, which was when my mum and I headed of for an adventure of a life time together. My partner and I have travelled every corner of this magnificent land. Many nights for months I would lie in bed on our return thinking how could I share what I had the privilege to experience with the one person that I owed my existence too. Finally, I summoned enough courage to hire a fully self-contained camper van (it felt like a was driving a 15t truck more so then a van) and coax my aging mum to accompany me on a road trip from Darwin through to Uluru, stopping at all the great locations such as Mataranka/Litchfield/Kakadu/Alice Springs/Kings Canyon etc. The trip was born of many reasons but in a nut shell - an homage to mum for having the courage to give birth to me in difficult circumstances and raising me all on her own. I wanted to thank mum by showing her the unimaginable beauty this land has to offer whilst at the same time spending quality time with her before age consumes her.
We landed in Darwin mid-May 2017 picked our camper and began our adventure… it quickly dawned on me that mum has deteriorated and was not in the best of shape, watching my mum (who is 65) made me realise that I needed to change my lifestyle and improve my health if I wanted to be able to continue to enjoy the adventures that my partner and I became accustomed to. Being away from the daily grime allowed mum and I to think of what we eat and how much we consumed, we walked a lot (as much as possibly under the circumstances) we ate regularly and much smaller portions, we quickly began seeing the effects of a healthy balanced lifestyle, I started the trip weighing in at 71kgs, 3 weeks later landed at Sydney airport weighing 67kgs. With my new found motivation of wanting to delay the effects of aging, I sought the assistance of Vision Personal Training after hearing my daughter In-law speak very positive of them. I had previously attended a number of gyms and thought "here we go again" I had my reservations as I thought all gyms were practically the same…. after my first session I quickly realised that this place was more than just a gym, it was a home that likeminded normal, real people unite and support each other to succeed their goals. I look forward to catching up with my Vision family 3 times a week, I have hit my goal of 58kgs 3 weeks ago and now I'm my journey to my goal of 62kgs of pure muscle.
I now walk past those previously hated truthful mirrors and dance for a few seconds every morning to rub in their face what I have accomplished, I look forward to my reflections and the comments of those that have noticed my transformation. It has not only been a physical change, it has also made me a more confident individual - thanks to my Vision family but most of all thank you to Kate Hanrahan for being my mentor/trainer/motivator and friend.
Sylvania Success Stories
Our holistic approach to emotions, education, eating and exercise has transformed thousands of people across Australia & New Zealand. Get inspired by the journeys of your latest clients.
Are you our next success story?
Give your goals the greenlight and join us. Book your free consult now.