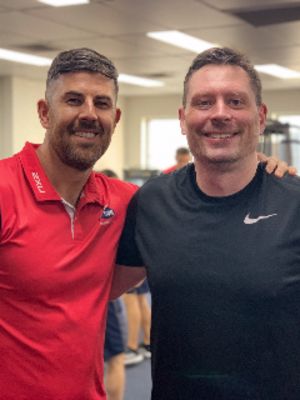 Fighting Fit
I came to Vision after a few years of bouncing between a healthy lifestyle, healthy weight and regular exercise and periods of sedentary behaviour tied to long work hours, weekly work travel, restaurant food and client entertainment. The ends of the spectrum were extreme, with either training hard, or doing nothing and my weight varying by over 20kg at either end. I needed a sustainable approach and routine that I could make work in 'real-life'.
Shortly after joining Vision Personal Training Bondi Junction I undertook a nine-week challenge with a combination of personal training, group exercise, accountability and nutrition plan that was matched to me as an individual, and which was sustainable rather than extreme. Because it's personal, the programme and approach are designed for you, rather than you having to fit a one-size-fits no-one!
Getting back to being fighting fit, like any good journey is about embracing the twists and turns along the way, and enjoying the ride, rather than stressing about getting to the destination and not taking in the positive experience along the way.
The result so far is over 9kg of weight loss, an improvement in my fitness age of two years, increased energy and a renewed love of cycling, boxing and keeping up with my kids.
I'm looking forward to the next months!
Bondi Junction Success Stories
Our holistic approach to emotions, education, eating and exercise has transformed thousands of people across Australia & New Zealand. Get inspired by the journeys of your latest clients.
Are you our next success story?
Give your goals the greenlight and join us. Book your free consult now.