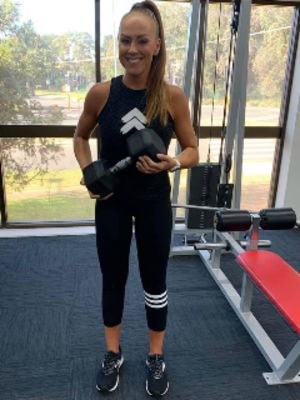 Having a baby and trying to lose the baby weight amid a closed Personal Training Studio and during a worldwide pandemic - not ideal!

And I will be the first to admit, I was extremely dubious of what Online Personal Training would look and feel like, given I know firsthand how professional our face-to-face service is, however, I can now proudly say, my initial thoughts were all proved wrong!

Despite really missing the vibe of when you are actually in the Studio, Online PT quickly became the 'new normal' and something I loved.
Having two young children at home, our own lives turned upside down with our business forced to close in crisis, a very stressed husband and me feeling extremely anxious myself, training and eating well was the only thing I had "for me" and my only positive outlet during COVID-19.

Initially it all seemed too hard as continuing my training was faced with a barrier - CHANGE and an additional thing to think about! So, needing to pivot online just like all of our Clients really wasn't something I welcomed as I was already feeling overwhelmed as it was. The appointments I had scheduled I my diary every week, 3 x a week, were something I really looked forward to, but I had to adjust if I still wanted to reman fit and healthy. And I am so glad that I did!

In fact, I can actually say my result was probably accelerated because of Vision's Online platform because trying to drag two little ones out of the house with so much uncertainty in the world having concerns for putting their health and my own at risk, meant staying at home and still having access to my wonderful trainer (husband!) and keeping accountable and on track with my goals was a blessing in disguise.

The Group Training Sessions were HARD even through a laptop screen and the energy was still felt even though we were at a distance.

The other thing I found, in what felt like a very unusual and somewhat lonely time, was when we got together on Zoom for our Online Group Training sessions and also our Education Seminars was that I got to connect and feel comforted by talking to other Clients who felt the same as me and were going through the same thing. I think I enjoyed that part more than the actual training! Our Zoom sessions opened up a more connected dialogue that you wouldn't normally see as you race in and out of the Studio into your sessions just due to the hustle and bustle of everyday life.

The mental refresh it gave me being able to switch off from #mumlife and also work was truly what kept me on an even keel during a time in my life which would probably have been the most unrest and stress I/we as a family have ever encountered.
A great bonus was that I achieved my goal of losing the whole 18kgs I gained with the pregnancy of my second child, actually losing 5.5kgs at home in isolation during COVID-19 while the doors were closed!

I am really looking forward to being able to get back into the Studio for face-to-face training but I can honestly say, the online services Vision has now provided to Clients, like myself, has been a huge value add to anyone who walks through the doors. I think Vision now has the whole package - you can train and stay connected to your community and your goals from anywhere at any time!
I love our little Vision Bangor Community!
Bangor Success Stories
Our holistic approach to emotions, education, eating and exercise has transformed thousands of people across Australia & New Zealand. Get inspired by the journeys of your latest clients.
Are you our next success story?
Give your goals the greenlight and join us. Book your free consult now.