Level 5, 100 Clarence Street
Sydney, NSW 2000
Opening hours
Mon - Thurs 6.00am – 7.00pm
Friday 6.00am – 5.00pm
Saturday Appointment Only 7.00am -12.00pm
Sunday Closed
Client feedback means the world to us!
Check out our latest reviews
Almudena Gonzalez

March 06, 2021

"I began my training with Vision Clarence st a year ago, only 2 weeks before the lockdown. It has been the best decision I have ever made. My personal trainer

...

(Jason) is great, he has helped me to improve my fitness condition. Motivation is key and he helps me everyday to keep my motivation up to achieve my goals. All the trainers in the studio are great, very professional, and always ready to help guide you. I totally recommend the studio. They facilitate a fantastic atmosphere with their 1 on 1 personal training sessions, and group classes. My experience cannot be better. In one year I have achieved so much (even throughout covid by doing virtual sessions). I have not been this light and fit in a very long time. I have no doubt it is the best place in the CBD.

See more

"

Hieu Truong

February 06, 2021

"Anthony and his team are amazing. Professional and always look after me well. Highly recommended! 👍🏻 "

Roland C

December 28, 2020

"Vision Personal Training Clarence Street studio is a fantastic gym option for those in the city looking for highly targeted weight loss or muscle gain training. Vision will put an

...

emphasis on ensuring your food intake is right for your goals and complement it with the training to guarantee success. My trainer Jason provided a lot of support and as a result my fitness improved dramatically.

See more

"
Meet our Clarence Street team
Meet our Studio Owners, Managers and Personal Trainers who are passionate and absolutely ready to guide you along your new health and fitness journey!

OWNERS


TRAINERS

Looking to join our team as a Personal Trainer?
Latest articles by our team
Are you our next success story?
Give your goals the greenlight and join us at Vision Clarence Street. Book your free consult now!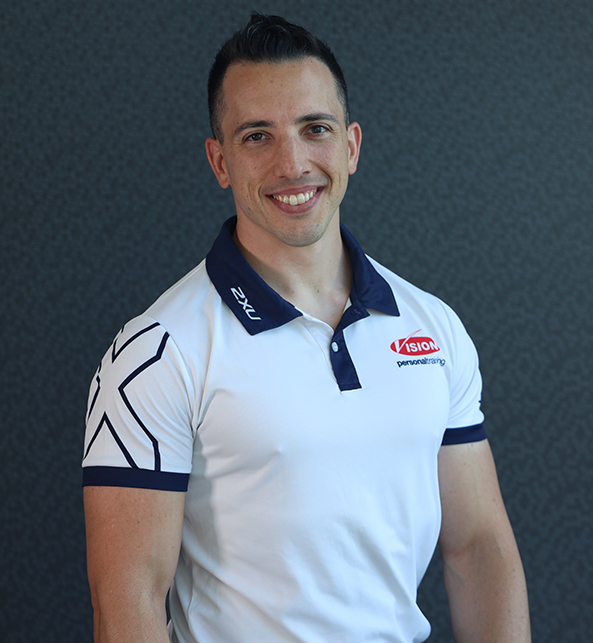 Elliott's experience in the Health and Fitness profession as a Personal Trainer dates back to 2006. He has performed 10,000+ hours of Personal Training in his career so far and his journey from graduate to Personal Trainer and now Franchise Owner is an inspiring one. Elliott has owned and operated Vision Personal Training Clarence St since December 2009, leading a close-knit superstar team. Elliott prides himself on the development program he provides his team, and is proud of the results and impact his Trainers are having on the lives of their Clients. Elliott's goal is to make the passion for health and fitness a viable long-term career for the team at Clarence St. Elliott is constantly working on leadership, mentoring and the development of his team to provide the best level of service possible to our members.